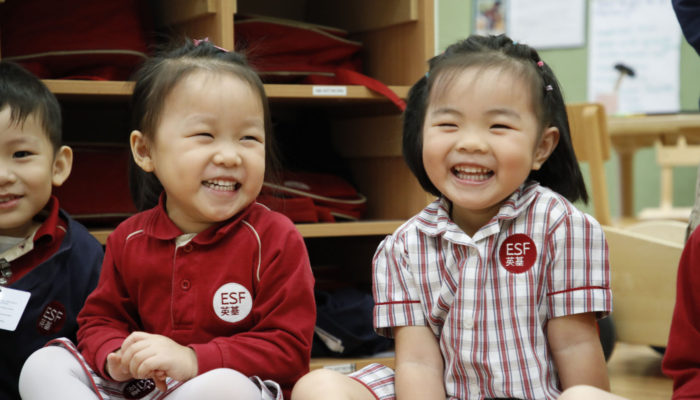 ESF launches kindergarten debenture scheme
中文 (香港)
K1 Debenture guarantees priority interview at ESF Kindergarten
New ESF 'Through Train' System means successful applicant guaranteed a place until Year 13 – covering Kindergarten, Primary and Secondary School.
ESF today announced the creation of a new Debenture scheme that would allow holders to secure a priority interview at an ESF Kindergarten.
Families who have students accepted into an ESF Kindergarten – and can access a mainstream education – will also, thanks to the creation of the new 'Through Train' system, be guaranteed a place in an ESF Primary and Secondary School.
The new Debenture, therefore, guarantees those families who have their child accepted into the Kindergarten a place in ESF's world class education system for up to 15 years.
Speaking about the launch of the Debenture, ESF Director of Communications, Rob Shorthouse said:
"ESF is a world class education system. Our graduates not only achieve exceptional academic results, they have the skills, confidence and analytical tools needed to thrive in our modern world.
"We believe that the earlier students enter into our system, the better it is for them. That is why we created our 'Through Train' system. Having this in place means that we can give our parents certainty about their child's education – guaranteeing a seamless transition between kindergarten, primary and secondary.
"The new Debenture scheme is a way of giving families an even greater guarantee that their child can secure a place at ESF."
Central application for K1 places at the five ESF International Kindergartens – Abacus, Hillside, Tsing Yi, Tung Chung and Wu Kai Sha will be open from 1 to 30 September. Parents with child born in 2017 should apply. Parents should refer to this website for information: www.esf.edu.hk/admissions-kindergarten/
About the Debenture:
There will be a limited number of Debentures available and the cost of the new Debenture is HK$500,000 – the same as our Individual Nomination Rights Scheme which currently guarantees a priority interview for families looking for their child to enter an ESF Primary School;
This new Debenture scheme is an extension of this. If parents buy one of the Debentures, then they will be guaranteed a priority interview for one of our ESF Kindergartens. If the student accepts the place at an ESF Kindergarten, once they complete K2, they will be offered a place at one of our ESF Primary Schools if they can access a mainstream education. At this stage, the Debenture will be converted into an Individual Nomination Right. If the parent chooses to attend the Primary School at Discovery College or Renaissance College, they will receive a HK$100,000 refund – as the cost of an INR for those schools is HK$400,000. They will then complete their time with us by being guaranteed a place at an ESF Secondary School;
Entering at K1 and staying until the end of Y13 is a total of 15 years guaranteed education at ESF;
Details about the ESF 'Through Train' can be found at this link here.
Click here to know more about ESF Kindergarten admissions.
**Click here for more details and application forms: www.esf.edu.hk/kindergarten-debenture/
For enquiries, please email: admissions@esfcentre.edu.hk