Founded : 1967
Age range : 5 to 11
Number of students : 540
Curriculum : IB Primary Years Programme
At ESF Beacon Hill School, our team of professional staff provide an all-round education of the very highest quality, ensuring that every student can be the best that they can be. We nurture a strong sense of belonging by getting to know our students as individuals so we can personalise the learning experience for them.
We are an inclusive school, catering for students with a range of needs and abilities. We have well-established systems, resources and personnel to ensure students are highly engaged, independent and are achieving success.
We are proud to be an accredited IB school offering the Primary Years Programme (PYP). Through this programme, students use their initiative and are encouraged to take responsibility and ownership of their learning. Students learn through inquiry and regularly reflect on their learning and set next steps for development. Technology is an integral part of the learning and teaching process.
At Beacon Hill School we help students build, maintain and sustain positive and safe relationships. Embedding the IB Learner Profile in the culture of the school, helps students make a difference in their own lives, their communities, and beyond.
A good learner at Beacon Hill is someone who has a positive mindset. They want to do well and believe they can do so by continuous effort, perseverance and by learning from mistakes. Our learning culture encourages strong self-efficacy.
We have an active Parent Teacher Association and the governing body, the School Council, supports our school ensuring the school achieves its aims.
Join us on a virtual campus tour here:
Address: 23 Ede Road, Kowloon Tong, Kowloon
Tel: +852 2336 5221
Fax: +852 2338 7895
E-mail: bhs@bhs.edu.hk
Website: www.beaconhill.edu.hk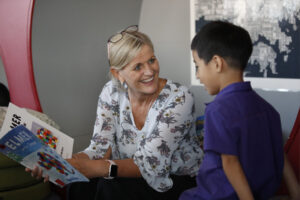 Zone
The west side of Nathan Road from Tsim Sha Tsui to Boundary Street excluding areas south-west of Cherry Street and Ferry Street (except The Hermitage), the area north of Boundary Street, including Kowloon Tong and Caldecott Road. Extending westward along the Lung Cheung Highway including Tsuen Wan and Tuen Mun.