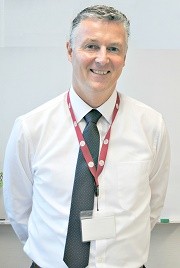 Dear Colleagues
I hope all are settling back into the swing after the summer break, two weeks seems to have flown by. I thought I had better catch up with our new principal at West Island School as I had received an email from him making reference to his staring at gravestones. I thought I had better see if all was ok until I was reminded of the view from his office window! I am pleased to report that all is well at the school and Chris is enjoying being here and working with some great staff and students.
It was good to see so many students and families at the Chairman's Awards last night. We had the opportunity to say well done to over 200 students for their outstanding achievements at both IB and BTEC level. The event showcased not only the achievements of our students but the strength of ESF as a learning community in being able to celebrate together. Many thanks to Island School for their hospitality and for all those who attended to support the students.
The concept of ESF as a learning community was further highlighted at a 'meet the teachers ' event at the Kowloon Learning campus. Newly appointed staff from KGV, KJS and JCSRS all met in the executive principal's study, it was cosy in there to say the least! It was a real opportunity to both network and share ideas on working together in the future and on behalf of myself and Belinda, many thanks to Ed for arranging the event and hosting with such aplomb.
Despite the summer break being just behind us, the admission process for the next academic year is already underway. I attended the Year 1 admissions application meeting hosted at Kowloon Junior School. Over two hundred families were present, all indicating their desire to secure a precious place at an ESF school.  The event went well with not surprisingly many questions asked. Well done to Julie and the admissions team and thanks to the school, especially the IT technician who was on his way home but returned to provide some much needed assistance. It was only when he returned did I realise he is a runner and had covered 5k when he received the call, he arrived in good time and was barely out of breath, very impressive.
I am aware that a number of overseas visits are currently being planned for the coming term. With regard to risk assessment I remind colleagues to make use of the information provided by the International SOS as part of the process to determine risk. The information provided is up to date and very helpful, all ESF schools are affiliated to this service and I recommend the International SOS App be downloaded. Please let me know if there are any queries around this type of activity and I can discuss with the risk management group.
Finally, thanks to the many colleagues who attended the leaving event for Laura Ferretti. Laura will be very much missed and it was good that she had so many colleagues wishing her well for the future.
David Whalley