In 2018, 99 students from King George V School, Island School, Renaissance College, South Island School and West Island School successfully completed the Applied Learning Pathway. These students followed personal pathways that involved the Business and Technology Education Council award (BTEC), or BTEC with a combination of either IB subject courses and/or AS-levels. BTEC subjects studied include Art and Design; Business; Creative Media Production; Hospitality; Engineering; Performing Arts; Information Technology; Public Services; Travel and Tourism and Sport. Six students from Renaissance College also successfully completed the IB Career-Related Programme.
The intensive work by the ESF Higher Education counsellors group is enhancing the reputation of Applied Learning Pathway students. BTEC awards, IB courses and AS-levels can be converted into UCAS points (University and Colleges Admissions Service) which are recognised by UK Higher Education institutions.

Over the last five years, Applied Learning Pathway students have gone on to study at 151 different higher education institutions. The most popular destinations between 2014 and 2018 are: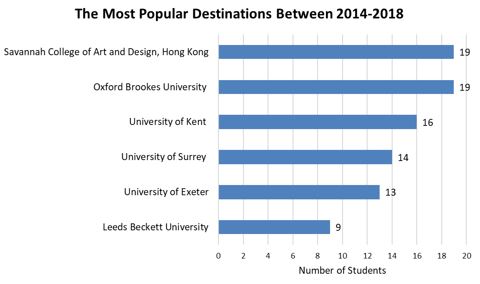 Other popular institutions include:
Hong Kong:The University of Hong Kong and HKU SPACE;
UK:Lancaster University, Nottingham Trent University, University of Brighton, Northumbria University, Sheffield Hallam University, University of Westminster, University of Sheffield, University College Falmouth, University of Nottingham and many others;
Switzerland:Les Roches International School of Hotel Management; and
Australia:Blue Mountains Hotel Management School and the International College of Hotel Management.
The most popular area of study chosen by students includes: