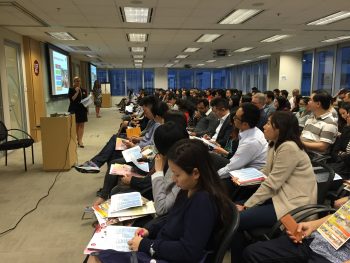 We warmly invite you to join our information seminars to learn more about ESF's curriculum, educational philosophy and admission policy.
Explore how ESF schools bring out the best in every student through our personalised approach to learning and by inspiring curious minds. Everyone is welcome.
Please note that BOTH seminars in March are FULL already.
Please click on the link below to register if you wish to receive information for the seminars in May.
Signing up for ESF Information Seminars - March 2017
Seminar 1:
An education worth having at the kindergarten and primary stages
Date: Tuesday, 7 March 2017 (FULL)
Time: 6 pm to 7 pm
Speakers:
Ms Rebecca Clements, ESF Senior School Development Officer (Primary and Early Years)
Mr Chris Duncan, Principal, ESF Hillside International Kindergarten
Ms Julie Wong, ESF Admissions Manager
Seminar 2:
How personalised learning in ESF secondary schools paves the way to success
Date: Thursday, 23 March
Time: 6 pm to 7 pm
Speakers:
Mr David Whalley, ESF Director of Education
Ms Kirsty De Wilde, ESF Learning and Teaching Adviser (Secondary)
Ms Julie Wong, ESF Admissions Manager
Venue for both seminars:
ESF Centre, 25/F, 1063 King's Road, Quarry Bay, Hong Kong (Click HERE for directions)
The seminars will be conducted in English.
For any enquiries, please write to news@esfcentre.edu.hk.
Signing up for ESF Information Seminars - March 2017