中文 (香港)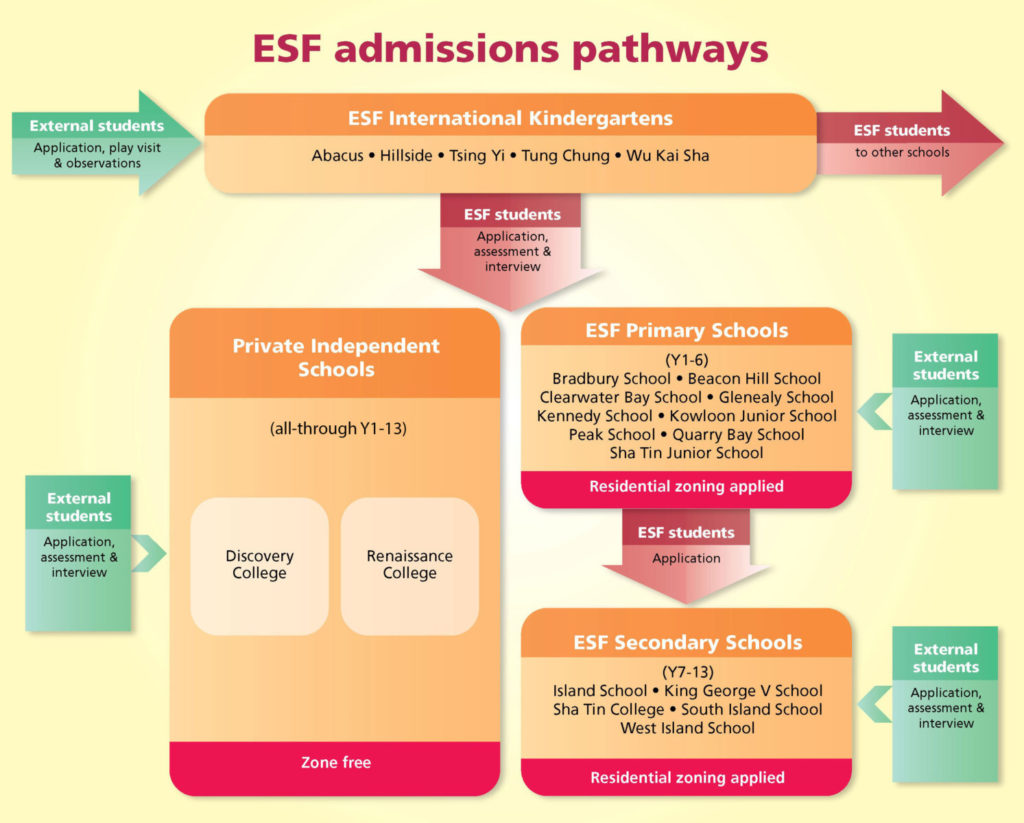 ESF's nine primary and five secondary schools currently receive a subsidy from the Hong Kong Government, which is in the process of being phased out over a period of 13 years. In the 2017/18 academic year, new entrants to Year 1 and Year 2 no longer receive the subsidy.
The two Private Independent Schools (Discovery College and Renaissance College) and the five ESF International Kindergartens are financially independent and do not receive any Government subsidy.
Please click here for fees information of our schools.
ESF schools are not selective: admission depends above all on the student's ability to benefit from an ESF education. Please click here to see our Admissions Policy.
GENERAL APPLICATIONS
For ESF International Kindergartens, ESF primary and secondary schools and Private Independent Schools (PIS)
Parents may submit application through our online admissions systems for the 2017/2018 and 2018/2019 academic years from 1 September 2017. There are waitlists at each of our schools and interview for placement is dependent on places being available.
Applications are valid for one academic year. Applicants on waiting lists at the end of the academic year may carry forward their waitlist position by reapplying for the following academic year. Waitlist applicants will be contacted by email before April each year for reapplication.
Online applications should be made via the links below:
CENTRAL APPLICATIONS
For 2018/19 Year 1 (children born in 2013) and Year 7 (children born in 2007)
Application period: 1- 30 September 2017.
Dual applications to ESF schools, Discovery College and Renaissance Colleges should be made separately via the above websites.
Please click Year 1 or Year 7 for information and key dates.
Applications to ESF International Kindergartens
CENTRAL APPLICATION for 2018/19 K1 (children born in 2015): 1- 30 September 2017.
For application details and information on admissions to ESF International Kindergartens, please click HERE.
 ESF Y6 students transferring to secondary school for August 2018
Please click here for information and key dates.
Nomination Rights Scheme
Applicants through the scheme gain accelerated interview priority. Please click here for details.
Click here to see the FAQs on admissions and the Online Application System.
Updated on: 28 June 2017