Founded : 1961
Age range : 5 to 11
Number of students : 900
Curriculum : IB Primary Years Programme
ESF Kennedy School occupies a pleasant location on the west of Hong Kong Island, and benefits from the use of the swimming and sporting facilities of The University of Hong Kong's Stanley Ho Centre, which is adjacent to the school. Music, performing arts and physical education are strengths of the school. A strong interest in environmental and ecological issues is also a feature. The school provides daily Mandarin lessons for all students and also offers a very rich and varied extra-curricular programme.
The school boasts a rich mix of nationalities and cultures among its 900 students. We offer a high quality, modern, liberal education based on the IB PYP with links to the English National Curriculum and adapted to meet the needs of children living in Asia.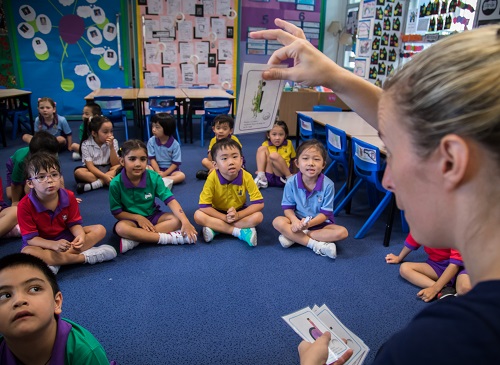 Address: 19 Sha Wan Drive, Pok Fu Lam, Hong Kong
Tel: +852 2579 5600
Fax: +852 2817 7471
E-mail: admissions@kennedy.edu.hk
Website: www.kennedy.edu.hk
Zone
The area from Caine Road to Aberdeen. Cheung Chau. Babington Path, Oaklands Path, Hospital Road, Des Voeux Road, Connaught Road, Queen's Road Central (excluding the Central District hotels), Park Road, Breezy Path, Bonham Road, Caine Road and north of the Bonham/Caine Road line, Castle Road, Seymour Road, Mosque Street, Shelly Street, 97 Robinson Road and beyond (odd numbers), 72 Robinson Road and beyond (even numbers), Kotewall Road, Lyttleton Road, University Drive, Oaklands Avenue, Chi Fu Fa Yuen, Baguio Villas, Cyber Port Road, Victoria Road, Kennedy Town, Shum Wan Road, Grantham Hospital, the Police Training School and Aberdeen Marina. Ap Lei Chau excluding South Horizons. Central District and Sheung Wan (excluding hotels); north of Caine and Bonham Roads to the waterfront.