The ESF Kindergarten Class A Debenture guarantees priority interview for K1 admissions at an ESF Kindergarten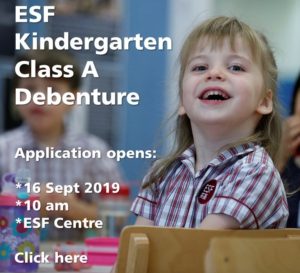 Application opens on Monday, 16 September 2019 at 10 am, ESF Centre. Read more about submission details.
There will be a limited number of Debentures available and the cost of the new Debenture is HK$500,000.
Successful applicants will be able to enjoy through-train education into ESF primary and secondary, if they can access a mainstream education.
Continue to read more about information, procedures and download the application form
Go to the FAQs about Kindergarten Debenture
For enquiries, please email: admissions@esfcentre.edu.hk