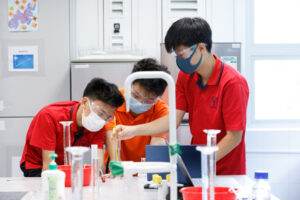 Parent Information Webinars
Join our information sessions to understand more about ESF schools, our philosophy, our curriculum, and how we help students to be the best that they can be!
We will also walk you through the admissions process – how to join the ESF Family. ESF staff will be available to answer your questions in person and ensure you're fully prepared to help your child or children make these exciting next steps.
Upcoming:

Bradbury School Information Webinar
Date & Time
1 November 2022 (Tue) | 3.30pm
Registration
Sign up here
*This webinar will be conducted in ENGLISH.
School Visit
We encourage all prospective parents interested in learning more about our incredible schools and offerings to join the campus tour in person. During the visit, you will have an opportunity to view key spaces and facilities guided by members of the school community.
Upcoming:

Peak School Campus Tour with Mr. Bill Garnett, the Principal
Date & Time
27 October 2022 (Thu) | 3.45pm - 4.30pm
3 November 2022 (Thu) | 3.45pm - 4.30pm
17 November 2022 (Thu) | 3.45pm - 4.30pm
Location
20 Plunkett's Rd, The Peak
Registration
Sign up here
Island School Open Day
Date & Time
3 November 2022 (Thu) | 1.45pm - 3.30pm
Location
20 Borrett Road, Mid-Levels
Registration
Sign up here
(The form will close at 10am on Tuesday, 1 November 2022.)
Bradbury School Campus Tour with Mr. Steve Fennelly, the Vice Principal
Date & Time
25 November 2022 (Thu) | 10.30am
Location
43C Stubbs Road, Hong Kong
Registration
Sign up here