中文 (香港)
How do we assess our students?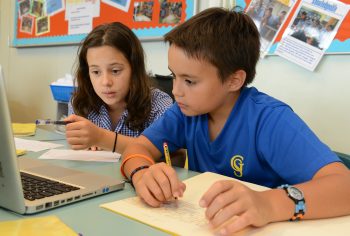 Assessment is an important part of our curriculum framework as it both enhances learning and provides opportunities for students to reflect on what they know, understand and can do. The teacher's assessments and feedback to the students provides the guidance, the tools and the incentive for them to become more competent, more skillful and better at understanding how to learn.
The principal purposes of assessing what has been learned are to:
determine what the student knows and understands
inform and differentiate teaching and learning
monitor student progress
provide feedback to teachers, students and parents
monitor the effectiveness of the learning programme
inform the professional development of teachers.
Students are assessed both formatively and summatively.
Formative assessment is interwoven with daily learning and helps teachers and students find out what the students already know in order to plan the next stage of learning.
Summative assessment occurs at the end of the teaching and learning process and provides students with opportunities to demonstrate what they have learned.
Teachers use a range and balance of school-based and ESF-wide assessment strategies and feedback techniques, including:
writing samples
benchmarks and continuums
structured observations
anecdotal records
performance tasks
standardised assessments
rubrics or guiding descriptors
portfolios of work
student/teacher/parent conferences
formal reports
Students who are in their final year of the programme carry out a collaborative inquiry project, known as the exhibition, under the guidance of their teachers.
The exhibition represents a significant event in the life of both the school and student, synthesising the essential elements of the programme and sharing them with the whole school community. It is an opportunity for students to exhibit the attributes of the learner profile that have been developing throughout their engagement with the programme.