中文 (香港)
What do our students learn?
The written curriculum incorporates five essential elements — concepts, knowledge, skills, attitudes and action.
Students are given the opportunity to:
gain knowledge that is relevant and of global significance
develop an understanding of concepts, which allows them to make connections throughout their learning
acquire trans-disciplinary and disciplinary skills
develop attitudes that will lead to international-mindedness
take action as a consequence of their learning.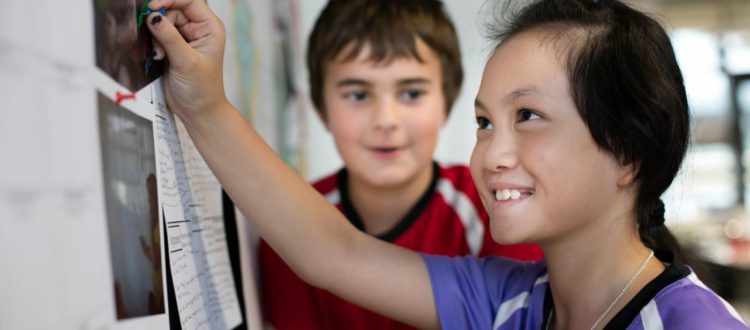 The most significant and distinctive feature of the IB Primary Years Programme is the six transdisciplinary themes. The transdisciplinary framework allows students to learn through and beyond traditional subject areas.
The six transdisciplinary themes are:
Who We Are
Learning about ourselves, our beliefs and values, rights and responsibilities, our friends, families and cultures.
Where We Are in Place and Time
Learning about place and time, our personal histories, local and global history and geography, migrations and discoveries of ourselves and others, the contributions of individuals and civilisations.
How We Express Ourselves
Learning about the ways that we discover and express ourselves: our ideas, feelings, cultures, beliefs and values.
How the World Works
Learning about the interaction between the natural world and human societies, how humans use their understanding of scientific principles and the impact of scientific and technology advancements on society and on the environment.
How We Organise Ourselves
Learning about the interconnectedness of human-made systems and communities; the structure and function of organisations, economic activities and their impact on society and the environment
Sharing the Planet
Learning about the rights and responsibilities in sharing finite resources with other people and living things; communities and the relationships within and between them; access to equal opportunities; peace and conflict resolution
The Primary Years Programme can be illustrated by a hexagon with the six trans-disciplinary themes surrounding six subject areas: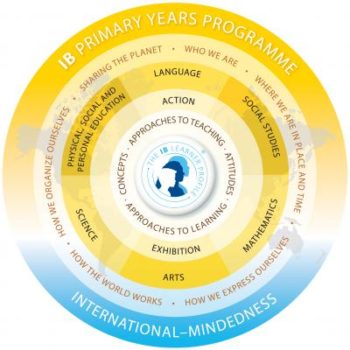 language (English and Chinese)
social studies
mathematics
arts
science
personal, social and physical education