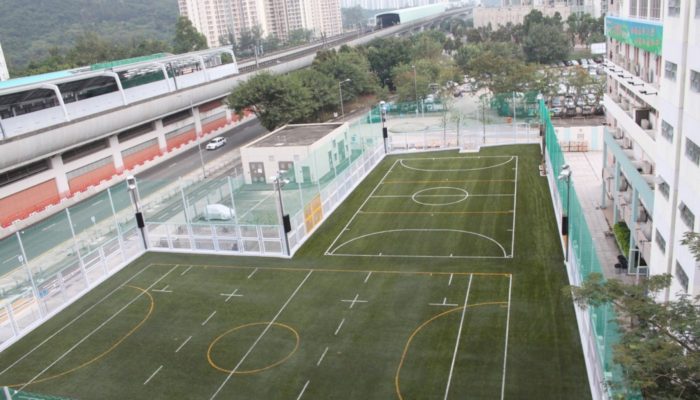 RCHK and HKRFU in partnership for sport development
Renaissance College (RCHK) is delighted to announce a partnership with the Hong Kong Rugby Football Union (HKRFU) in co-financing the construction of a new 2,000 square-metre rugby pitch.
RCHK, a private independent school of the English Schools Foundation, spent approximately HK$10 million on constructing the pitch including its state-of-the-art artificial turf, underground drainage, netting, lightings with the assistance of the HKRFU to fund half of the cost.
RCHK is the third ESF school to collaborate with HKRFU in sport development following King George V School and South Island School. The partnership was initiated by RCHK in 2010 when Alex Broome, a PE teacher found out that HKRFU was looking for a rugby site in the New Territories. The college rugby team will be a huge benefactor from the development. The multi-purpose pitch will allow full-contact training that develops skills, which have been a challenge for students in the rugby development programmes.
Dr. Harry Brown, Principal of the college said: "We are very fortunate to have the opportunity to build this world-class facility at RCHK, which not only will benefit our school but also the wider community through HKRFU. It will also allow us to cultivate a culture of excellence in sports at RCHK "
Currently, 11 RCHK students, six boys and five girls, play for the national age grade programmes, including U14s, U16s and U18s, of the HKRFU.
"This will be a fantastic platform for our rugby squads to train and practice their skills and nurture talented rugby players that hopefully benefit the Hong Kong rugby representative teams in the future." Dr. Brown added.
In addition to rugby trainings, the L-shaped pitch will be utilised for a various range of sports events. RCHK will be able to facilitate sports activity organised by ESF schools while the wider community will also be able enjoy the facility through the HKRFU.