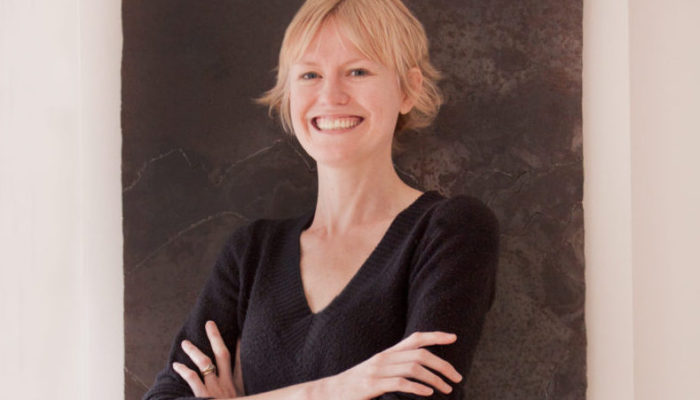 Cultural Revelation – Clare Morin
Clare Tyrrell-Morin moved to America from Hong Kong more than eight years ago. But somehow, she still finds herself trying to assimilate into the city she grew up in.
"Only recently, I realised that I could call myself a Hong Kong-British person or a British-Hongkonger,"
Clare, a writer, editor and Island School graduate, tells ESF. In 2009, she decided to escape the bustling city for a quieter life deep in the woods of Maine, New England, where her husband is from.
Despite being 12,000 kilometres away from Hong Kong, she has edited copy remotely over the years for Hong Kong arts organizations, taught Buddhism and started learning Chinese — a language she never managed to pick up in Hong Kong. It was only last year that she was finally able to wrap up most of her work ties to the city, when she took on a full-time role with an American content marketing agency.
Among her last jobs as a freelancer was to help write three chapters for a book, Creating Across Cultures: Women in the Arts from China, Hong Kong, Macau and Taiwan by Michelle Vosper, which profiles 16 Chinese women artists spanning three generations. It was published in March.
Finding Home
As a "third-culture kid" growing up in a sheltered "expat bubble", writing about Hong Kong artists was always about telling the story of human creativity, but it also served a means for self-discovery over her own confused cultural belonging. Clare is English by parentage but says she felt like a foreigner at university in Britain. "It was at university that I had my first real culture shock. I realised I wasn't English" Clare said.
"When I interview Hong Kong artists and cultural figures, part of me is trying to understand my own identity too and what it means to be a Hong Kong person,"
she says. "A lot of the time it comes up because Hong Kong is such an unusual cultural situation. It's on this timeline and is always about to disappear."
Clare penned three chapters about three acclaimed female Hong Kong artists – the playwright Candace Chong Mui-ngam and visual artists Jaffa Lam and Choi Yan Chi – in Creating Across Cultures.
"It was three chapters, 12,000 words and a year researching Hong Kong art and cultural history under the guidance of an extraordinary editor, Michelle Vosper; and in some ways it made me feel I could finally call myself a Hong Kong-British writer. I could claim this identity and not feel bad about it. It was really a wonderful and magical experience," she said.
Journey to the East
From Blackburn, England, Clare moved to Hong Kong with her family when she was just two-years-old. Her father, an architect, had spotted two openings in the classifieds, one in Baghdad and one with the government in Hong Kong. He opted for the latter option. "Things could have turned out quite differently," she jokes.
Clare studied at Island School for all of her secondary years. She recalls publishing poems and a painting for The Islander magazine and taking English literature classes with Martin Alexander. For her AS and A-levels, she took English, French, geography and psychology.
The multiculturalism and ethos of equality and global unity she was exposed to left a lasting influence on her.
"It's a wonderful environment to be educated in Island School. You just have this very balanced understanding of humanity,"
"There are so many nationalities in your class. It is inconceivable that you would see another nationality as inherently different from you. Growing up in that mixture was very grounding."
The Art of Attraction
After graduating from the University of Leeds in 2000 with a degree in English literature and philosophy, she returned to Hong Kong and began covering the arts and entertainment scene for publications such as HK Magazine, South China Morning Post and Time Out.
Somewhere in between, she took up a job in marketing and events management, which allowed her to support and work even closer with the artists and musicians she had been writing about.
"I always had this creative urge and I was just drawn to artists. There's always an element of how artists are trying to understand society and the world. I'm drawn to that sort of inquiry and questioning," Clare says.
She met her American husband, a drummer, during her second year of studies at Leeds and flirted with the idea of switching to art school halfway through her degree.
The Hong Kong identity
Amid the tranquillity of the woods "in the middle of nowhere" and in the company of her husband and cat, Clare now spends her days doing content marketing remotely for top tech firms in Silicon Valley and meditating in the mornings and evenings.
However, she has not been able to end the relationship with her beloved hometown. A new solo book of essays she is working on aims to "get to the bottom" of her intrigue about Hong Kong cultural identity.
"Most people in Hong Kong are immigrants," she says.
"For Hong Kong Chinese there's this whole question of 'how Chinese are we?"
"In researching for Creating Across Cultures, I reached back deeply into Hong Kong's colonial history and was feeling a lot of guilt about how awful a lot of that was — which layered upon my additional guilt of not being able to speak Cantonese. But then my editor pointed out that I shouldn't let that guilt block me, but that I should simply tell the story."
Clare misses Hong Kong and believes the connection will remain. "The conclusion, which I'm still trying to figure out, is that I can't let go of the Hong Kong part of me. I'm now starting to embrace it fully and use my writing practice to investigate it. Perhaps in a few years I'll transform into an American writer, and maybe eventually, I'll just be a writer—and won't have a need for any of these cultural labels."