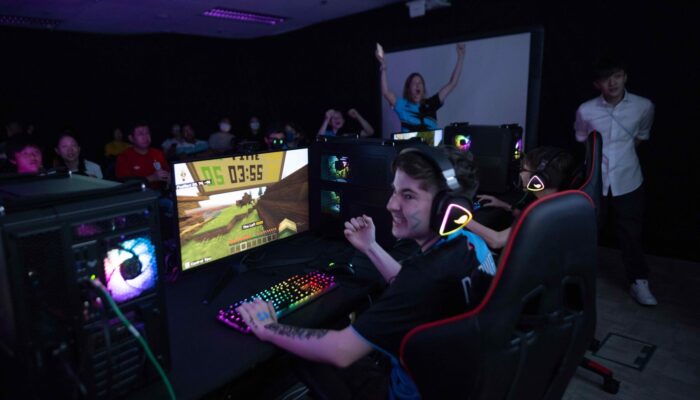 ESF Esports Tournament 2023: A Thrilling Display of Gaming, Teamwork, and Creativity
Diamond miners, gold seekers and treasure hunters gathered at the ESF Centre on Saturday 3 June and Sunday 4 June for our amazing inaugural ESF Esports Tournament 2023. The buzz of excitement was electric as we welcomed 24 student teams from across 16 primary and secondary schools to our mighty Minecraft challenge – the first and largest-ever ESF inter-school esports event.
Our state-of-the-art gaming arena featured top-spec gear, including rainbow backlit keyboards, glowing glass gaming cubes, specially designed chairs, headsets, and giant screens displaying the live action. It was a truly immersive experience for participants and spectators.
Our CEO Belinda Greer said: "Esports have absolutely exploded in popularity and for a good reason. It's a great way to bring people together from around the world to compete, learn, and have fun. We are going to play Minecraft this weekend, and that's all about problem-finding, problem-solving, working as a team, being creative and being good communicators. The commentators also have to be really skilled in being able to tell the story and explain the game.
"So today is going to be more than just having fun and playing games – it's going to be educational. Whether you are a veteran esports person or if you are, like me, a novice to this scene, have a great time, enjoy cheering on your team, and I really look forward to seeing who is going to come out on top."
The competition kicked off with teams collaborating to hunt for treasure, such as diamonds and gold, in diverse Minecraft landscapes. Later rounds challenged the students' creativity and strategic thinking as they worked together to recreate animal images. In addition, our team of student commentators also provided passionate and confident narration, showcasing their deep understanding of the game and sharing analysis, strategies, and highlighting exciting moments. The audience, including parents, teachers, principals, and senior leaders, enthusiastically cheered on the student teams, creating a vibrant atmosphere.
After two days of intense competition, the winners were announced.
ESF Esports Tournament – Day 1: Secondary Schools
1st: ESF Sha Tin College – Sabres
2nd: ESF South Island School – SIS2
3rd: ESF Discovery College – Cataclysm
4th: ESF Renaissance College – Ender Warriors
ESF Esports Tournament – Day 2: Primary Schools
1st: ESF Beacon Hill School – Burrito Hurling Samurai
2nd: ESF Glenealy School – Hyper-Pixels,
3rd: ESF Peak School – Phantoms
4th: ESF Kowloon Junior School – KJS Dragons
As an organisation, we pride ourselves on our culture of innovation. The ESF Esports Tournament 2023 is a testament to the fusion of new thinking, new technology, and new skill sets. The event provided our students with a joyful, immersive learning experience while the ESF community celebrated their achievements.