ESF Chairman's Awards for Excellence 2017
9 August, 2017 @ 6:00 pm

-

8:30 pm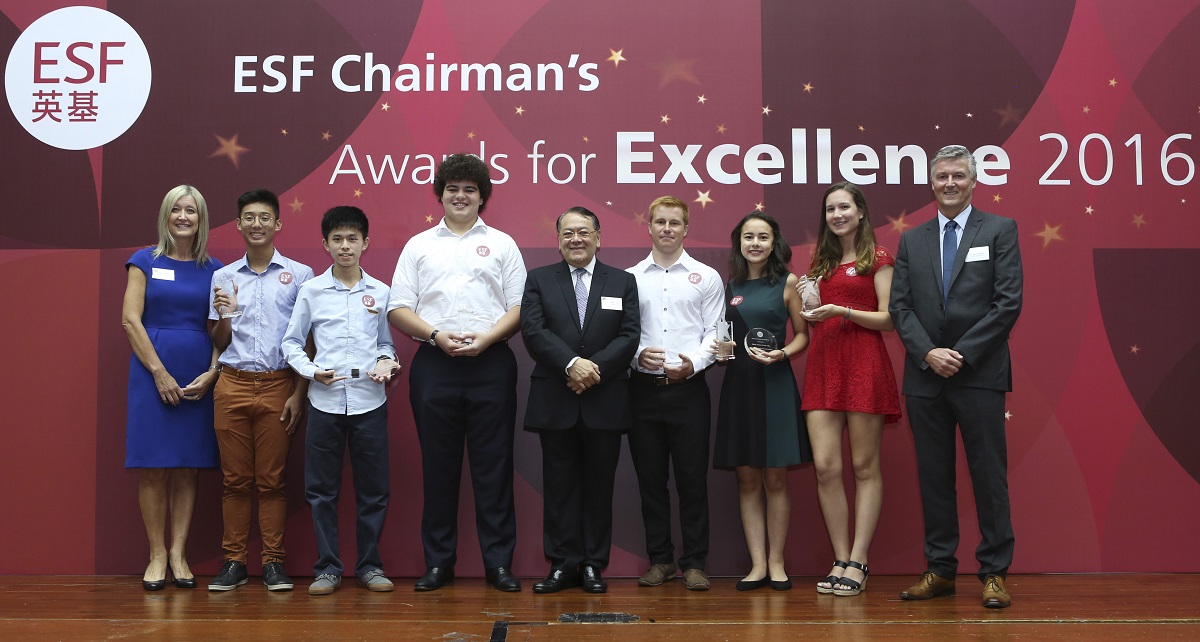 ESF will be hosting the ESF Chairman's Awards for Excellence 2017 ceremony on Wed, 9 August to recognise the outstanding performance of 222 ESF graduates. They include:
38 students with outstanding achievement in Leadership, Commitment and Contribution to Service, Embodying the Spirit and Values of the School, Sport and Creativity;
148 students who achieved the International Baccalaureate (IB) Diploma with 42 or more points (or a Bilingual Diploma with 40 or more points);
3 students who achieved an average of 5 and above for IB Diploma courses and a GPA of 3.0 (B grade) at SCAD in the IB Career-related Programme (IBCP);
51 students who achieved the equivalent of 420 or more UCAS points in the Applied Learning Programme.
Another highlight is the Carlson Tong Award to celebrate the distinctive performance of six students who achieved the highest performance in the Bilingual Diploma.
A number of students are receiving awards in more than one category.
Enquiries: susanna.chiu@esfcentre.edu.hk
How to go:
Shuttle bus
To KGV – 5pm – 5:15pm
Pick up location: Prince Edward MTR Exit A (Playing Field Road)
From KGV – 8:30pm
Drop off location: Prince Edward MTR Exit A (Playing Field Road)
Public buses
On Argyle Street: 2A, 9, 13D, 16, 24, 27, 95, 98C, 203E, 296C, N216
On Prince Edward Road: 1, 1A, 24, 27, 95, 113, N216, 6D, 12A, 42
Green mini buses
On Argyle Street: 46 – Olympic Station to Richland Gardens
7M – Kowloon Hospital to Prince Edward MTR Station (circular)
Prince Edward: 2 – Whampoa Garden to Festival Walk
25M – Kowloon Tong MTR Station to Tung Tau Estate (circular)
70 – Hollywood Plaza to Olympic Station
46 – Richland Gardens to Olympics Station
MTR
From Mong Kok Station to KGV
Green Minibus 46 (Mong Kok Road), get off at Hospital Authority Building
Buses 98S, 796C, 27, 24, 203E, 2A, 24, 16, 13D, 95, 296C, 98C, 9
Walk 25 mins walking distance (1.7km)
From Mong Kok East Station to KGV:
Green Minibus 46 (Argyle Street), get off at Hospital Authority Building
Buses 13D, 16, 296C, 98S, 98C, 796C, 27, 24, 203E, 9, 2A, 2X, 95
Green Minibus 17M (Argyle Street), get off at Kowloon Hospital West Wing
Walk 25 mins walking distance (1.8km)
Taxi
Show the taxi driver the following Chinese address: 何文田 天光道2號 英皇佐治五世學校