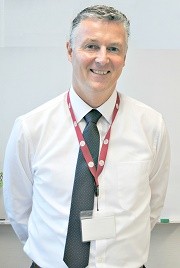 Dear Colleagues
I recall when I arrived in Hong Kong and took a stroll along Bowen Road it seemed that everyone I encountered was either a jogger/runner/speed walker or keep fit enthusiast. I didn't realise at the time that a relatively flat exercise trail is a rare thing in Hong Kong and I had stumbled on the busiest route. However, I am aware that many in ESF are not averse to pulling on a pair of running shoes every now and again as highlighted by a few events over the last week.
I met many colleagues at The Terry Fox charity run hosted by Renaissance College last weekend, the community event was hugely well attended with around 1,600 runners and supporters and I must congratulate Macy Lau and Jack Ng for their incredible energy and enthusiasm in organising such a successful day. I know that all enjoyed the day as the vast majority passed me as I negotiated the 5K course in sweltering sunshine, well done to all who took part. One who didn't need to pass me because I never caught her up was Belinda Greer, our CEO.
Belinda was at it again last night as part of the ESF representation running in the Bloomberg Square Mile Relay. I am just looking at the results, ESF Elite Team finished first in an amazing time of 55.57, that's ten runners, a mile each! Our Mixed Team finished first in their category, with our Mixed Squad just 6 minutes behind. A huge well done to all, the HKD$80,000 winners cheque will be very much appreciated by the IndoChina Starfish Foundation, the beneficiaries of this charity effort. Too many to name in the blog but a special mention to Brendan Kean from Clearwater Bay School as a time of 04.48 for the mile is none too shabby.
Whilst at RCHK I met with Alison Wu the Paralympian who has represented Hong Kong at four Olympic Games. She is a fencer with a total of 7 Paralympic gold medals, she was proudly wearing her most recent medal, a silver from Rio. She is a great character and is truly inspirational, I asked if she would be prepared to come into ESF schools to meet with students, she said she would be delighted. If any schools would like to contact Alison let me know and I will forward her details.
I also checked the results for the charity event The Community Chest Wheelock Swim for Millions that took place at Repulse Bay last weekend. It was good to see that our team of West Island swimmers performed so well, finishing just one minute behind teams of older, more experienced swimmers. Congratulations to Oriane, Ernest, Ethan and Owen and thanks to Richard Lant for putting the team together for the event. It was a good weekend for WIS with the Sedan Chair athletes, (is there such a thing?) winning the race up The Peak.
Back in the classrooms I am aware that a number of colleagues across ESF having been working with the IB in developing the curriculum offer for our students and for students globally. It was therefore really pleasing to note that the Diploma Review Committee of the IB has approved an ESF proposal for a new school-based syllabus in food science and technology. Those colleagues involved have put a great deal of effort into developing this project and are to be congratulated, well done to Rebecca Cottam and Kathryn Reed from STC and Chris Lord from IS, fine work. I also noticed that Sean Wray and Paul Letters from KGV have had their articles published in the latest edition of IB Review magazine, well done to both, it is worth a look as Paul's article on Uber taxi services in Hong Kong has made the front cover.
I attended a seminar last week which focused on potential links between international schools and local schools, this was organised by the SCMP and a number of ESF colleagues attended. ESF schools already have many links with schools within the local system with over forty schools being involved over the last eighteen months. There was a strong view expressed that these links can be developed further with a professional learning network being established to focus on key areas within school improvement. This will be discussed further but I would be interested in the views of colleagues as to how existing links can be developed along these lines.
The teaching and learning seminars for parents interested in an ESF education have again been very well attended. Well over 150 parents attended the seminar led by Bec Clements who was ably supported by Julie from admissions and Chris Coyle from Wu Kai Sha, the feedback was very positive, well done to all the presenters.
I have been contacted by First News International offering discount trial rates for schools interested in the following options:
Printed newspapers: These will be accompanied by the Reading Package, available through our website, to help teachers to build exercises around stories from that week's paper into their lesson plans
Digital newspapers: these are accessible through our dedicated apps, for iPad/iPhone and Android devices.
iHub: an online literacy platform, where we take news stories each week and build a range of reading comprehension exercises around them. Teachers can set work, at various difficulty levels, to individuals or whole classes. Much of that is marked automatically, and teachers can analyse their students' accuracy and engagement. A brief intro video can be viewed here: https://www.youtube.com/watch?v=QI6vqFrwtEQ
I am aware that schools in the foundation have accessed these resources in the past, for further details please contact: ross.mackenzie@firstnews.co.uk
A reminder that the The Queen's Commonwealth Essay Competition 2017 has now been launched. This is the world's oldest schools' international writing competition, established in 1883. It is run by the Royal Commonwealth Society in partnership with Cambridge University Press. Thousands of young people take part every year. I have included some brief details below, if you would like further information please contact Brian Brewer at: brianbrewer@outlook.com
Eligibility: All citizens and residents of the Commonwealth aged 18 and under are eligible to enter the competition. Special dispensation applies to entrants from Hong Kong, Ireland, The Gambia and Zimbabwe who are also eligible.
Junior Category: Born after 1st May 1998 and 1st May 2003 (under 14 years).
Senior Category: Born between 2nd May 1998 and 1st May 2003 (14-18 years).
A final reminder that ESF students have been invited to participate in the TedX discussions around the themes 'Edible Ideas' (Nov 12th) and 'Plasmatic' (Dec 3rd). Both events are at the HKCEC, please contact Crispian Farrow for more details.
It has been quite an eventful few days, my daughter is currently on Quest Week with Island School and internet access is limited in the remote part of Malaysia that the students are visiting, she returns tonight to the news that the United States has elected a new president, it will be interesting to see her response!
David Whalley