One of the best things about living in Hong Kong is its location. Complementary to that is its airport. ✈ When you put both of these things together, you end up with the ideal place to live in if you're interested in traveling throughout Asia. Most of your dream island getaways and cultural excursions are literally a direct flight away – nonstop! ?
So let's say you have a long weekend or you just really need to get away for a couple days…where could you go? Here are two places you can visit that are less than a two-hour flight away:
I. Hoi An, Vietnam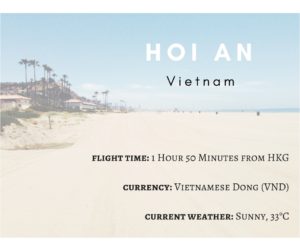 Vietnam is not the most classic place you think of when you think "beach vacation", but it has definitely been picking up in the last few years, and for good reasons! Firstly, it is less than a two-hour flight away from the Hong Kong International Airport, which is absolutely perfect for a quick weekend trip. You could even easily get away with not checking in a luggage – just hop on the flight with a carry-on. Secondly, it won't break the bank! While plane tickets may vary significantly in price depending on the season, accommodation and day-to-day expenses remain very inexpensive compared to Hong Kong. So while it might feel like a luxury vacation, you won't come back to a hole in your wallet. ? Thirdly, you get an unlimited supply of Vietnamese food! I don't think this reason needs any further justifications. Vietnamese food is delicious.
All in all, Hoi An is a very attractive option for a beach-side mini vacation for anyone working in Hong Kong. You could practically go there every week! ⛱
5 things to do:
Visit the Hoi An Ancient Town.
Join a food tour.
Take a much needed spa day.
Relax at the An Bang Beach.
Explore the Japanese Covered Bridge.
II. Taipei, Taiwan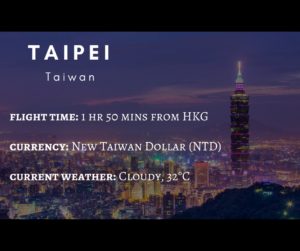 Sometimes we don't necessarily feel like lounging by the pool or the beach. We want different ways to unwind. Taipei is one of those places that can relax you in a very unusual way. Maybe it's their casual lifestyle. Maybe it's the smiling people. Maybe it's the soul food. Regardless, Taipei is a really popular place for people in Hong Kong to visit, not only because it's nearby and inexpensive, but also because there's lots to do.
There's lots of shopping – both local and more commercialized. If you're looking to explore more local shopping options, consider visiting Ximending, which is very easily accessible by MRT! If you prefer the air-conditioned shopping mall type, go visit Taipei 101 and catch the views at the top while you're at it. If you like to eat, boy does Taipei have a lot of that for you. Food courts, street stalls, local eateries, night markets…the food will never end. ? And DO NOT forget to buy drinks from a local bubble tea shop. They are amazing. If a relaxing massage and hot springs day is what you're looking for, head up to Beitou where there's a ton of that. ♨
5 things to do:
Indulge in the hot springs of Beitou.
Catch the amazing view on the Taipei 101.
Discover history in the National Palace Museum.
Eat your body weight in the Shilin Night Market.
Visit Taipei's many creative parks.
There you have it. Two places less than two hours away from Hong Kong that are not only inexpensive, but also lots of fun. Stay tuned for the next session – three places less than three hours away! ?
If you're considering moving to this wonderful place, you'll need a job; won't you? ? Check out ESF's recruitment website and see what we're currently hiring! If you don't find what you're looking for, no worries. Just scroll down to the bottom to let us know your interest, and we'll contact you! ?