We understand that potentially moving from wherever you are right now to Hong Kong is a very big decision, especially if you have children or are planning to have children sometime soon. On top of housing, transport, and education, you also find yourself thinking "Will there be anything for my kids to do?" ?
Yes. There will be plenty. So many that we'll have to break it up into separate blog posts. ? Today, we're gonna give the attention to the sporty kid ? (or the kid that's actually not sporty but you want them to do sports, so you want some fun activity to disguise the physical exercise they'll be doing…)
EASY HIKES
We all know that Hong Kong is full of beautiful hiking trails, however not all of them are that kid-friendly, regardless of how fit your kid is. ? If you want to get in some fun exercise on the weekends with your children, we recommend Dragon's Back hiking trail at Shek O. It's roughly a 2-hour hike if you walk at a leisurely pace, and most of it is really flat. The walk is breathtakingly scenic, and leads to beautiful beaches. No worries about the kids complaining the entire time. ?
Another good hike is on the Lamma Island. It extends from Yung Shue Wan to Sok Kwu Wan, roughly a 2-hour hike if you take it slow. The roads are really well paved and clear, so there's no worry that the kids will run off and get totally lost. Once again, it's a very easy hike.To be honest, it's barely a hike. ? Lots of food and shops on Lamma Island as well, so you could easily stay there for an entire day!
WATER SPORTS
Kids love water (most of them at least), so why not make their day and take them kayaking/pedal boating? ?‍♀️ Not gonna lie, you'll probably be doing most of the work for both of these activities, but they'll be overjoyed!
Pedal boating would probably be the priority if your children are really young (like under ten). For that, you can go to Wong Nai Chung Reservoir Park. It's a quick bus ride from Central, and provides both two-seater and four-seater boats, as well as free life jackets. It's a wonderful escape from the hustle and bustle of Hong Kong, and gives you a chance to tone your legs without being miserable the entire time.
For older, sportier kids, we recommend kayaking. This is a really popular activity in Sai Kung, and is so fun you don't realize the insane amount of upper body strength you're building. ? What's awesome about it is that Sai Kung is surrounded by many little islands that you can easily access through the kayaks. As you kayak through the crystal clear water, you'll find different beaches to rest up and snack in. ? Also, Sai Kung in itself is a wonderful place to spend an entire day in, so don't worry about being left hungry and bored after you've spent hours kayaking! ?
CYCLING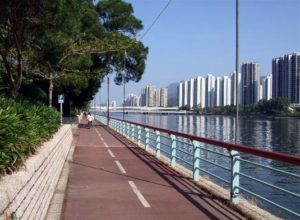 Just because Hong Kong is known for its skyscrapers doesn't mean it doesn't have any nice bike trails. Here we'll recommend two that are more suited to a family outing. Firstly, we have Sha Tin. Ah yes, the beautiful New Territories. This bike trail starts at Sha Tin Park and extends all the way towards Tai Po, a whopping 11.1km of potential discovery. It's well-paved and has a beautiful view along the waterfront, as well as themed playgrounds for kids to play in. It does get quite busy on the weekends, so if you're planning to teach your child how to ride a bike for the first time; it may be a little bit more difficult here. But if your child is a seasoned cycler, they'll love it! ?
Now for the beginner. This bike trail is the new kid on the block, still quite unknown to many people – Tseung Kwan O Waterfront Park. The advantage to this bike trail is that it is separated from pedestrians and is not usually too busy, which makes it the perfect place to teach your child how to ride a bike. The trail itself doesn't have too many twists and turns, and is nice and breezy. A wonderful place if you want a relaxing bike ride.
This is probably enough sport to keep your children busy for a while! For any specific details about any of these places, how to get there, or any general questions, message us on Facebook ? We'll be back soon with even MORE things for your kids to do! ?
If you're interested in working at ESF, let us know on our recruitment website! We'll contact you as soon as the position you're interested in becomes available!