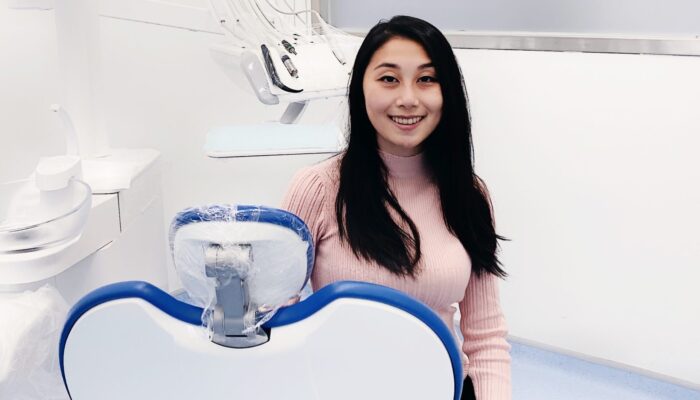 Dentistry is more than just teeth
Elok Cheung (STC, 2013) shared with us her passion and love for dentistry.
How have you progressed in your career?
Since graduating from the Bachelor of Dental Surgery in HKU, I've been given many opportunities to work in different places, such as the Department of Paediatrics and Orthodontics at the dental hospital, as well as private dental clinics. These unique experiences have allowed me to not only grow as a clinician, but to discover and reinforce my passion for paediatric dentistry.
I'm now fortunate enough to have been selected to partake in the specialist training pathway, where I'm undergoing my three-year master's programme in Paediatric Dentistry in HKU. Alongside my academic pursuits, I'm continuing my work in private practice, where I'm blessed to see my patients leave with a happy smile on their faces.
Why did you choose to be a dentist?
Being a dentist was not something that I imagined myself to be when I was young. I had never given this profession much thought until I was encouraged to join the dental summer programme organised by HKU when I was in Year 11. In that short week, my limited view on dentistry suddenly expanded and I knew I had to learn more. The Undergraduate programme in HKU spans over six years, and it was important to me that I understood the full picture before committing to this profession. Therefore, the following year, I interned at several dental clinics to experience what a dentist's day-to-day life was like, and seeing these doctors interact with their patients only solidified my desire to pursue this field.
Over these past eight years, I've learned that Dentistry is more than just teeth. It's compassion, kindness and empathy towards the patients that visit your clinic hoping for a better smile, a remedy for pain, and so much more. Every patient is unique, and every encounter that I've had is different. No day is the same, and that's what I love about being a dentist. You never know what to expect when a patient walks into your surgery. As a dentist, I'm able to connect and communicate with people from different backgrounds and all walks of life.
Whilst there are good days and bad, I'm thankful to be able to walk out of my clinic everyday knowing that I've done something meaningful for someone. This is especially true as I work mostly with children. To have helped shape a positive dental experience and lessen their fear and anxiety through every subsequent visit, is a truly rewarding experience.
What are the challenges working in the medical field in Hong Kong?
Working in the medical field in Hong Kong usually entails long, and sometimes unpredictable hours. Procedures can often overrun, or take an unexpected turn, and it is important that we stay level-headed. Unlike other professions, we often have to work on weekends, and some even work six or seven days a week. However, it is not always sustainable in the long run and therefore, a good work-life balance is important to stay physically and mentally healthy to avoid burnouts.
Whilst this is certainly not limited to Hong Kong, during the peak of COVID, many clinics were struggling to find protective gear, and some had to suspend certain operations temporarily due to the high risk of transmission and the lack of infection control equipment. This can create a stressful environment for all healthcare professionals, especially since we come in such close contact with patients every day, and we worry not only for ourselves, but for our family and friends. As for myself, it meant a period of isolation where I kept my distance from vulnerable family members, which was a difficult, but necessary decision.
Furthermore, Hong Kong is a diverse city, and communication is very important as a healthcare professional to ensure that your patients understand the benefits and risks of different treatment options. Hence, obtaining a basic level of language skills in Cantonese and Mandarin would be beneficial. I found that translating medical terms was something that I struggled with at first, but it takes practice, and we are lucky that the undergraduate curriculum spans over six years, so there is plenty of time to master these skills before being thrust into the real world.
How did education at ESF shape you to become who you are?
From Bauhinia School to Sha Tin Junior and finally, Sha Tin College, the twelve years that I spent in ESF have undoubtedly influenced me into who I am today. It taught me to explore new opportunities, stay open minded and take on challenges. From the diverse list of extra-curricular activities that were offered, I was able to dabble in things that I never would have tried if it weren't for these after-school clubs. Through CAS, I was able to explore my creativity through performances like Glee, embark on new adventures, like white water rafting in Australia, and give back to the community. Also, friendly inter-house competitions fostered team spirit and taught me the importance of being a team-player.
I also received ample support from the staff, who not only made difficult topics interesting, but also taught me invaluable life lessons, such as gratitude and perseverance. I'm thankful for the teachers who have encouraged me throughout the years, especially when I felt like I wasn't going to succeed. They would take time out of their lunch breaks and after school hours to give extra study sessions, and I would not be where I am today without the commitment that these teachers have shown. It is because of their influence that I strive to stay inquisitive and continue educating myself every day.
Lastly, ESF has given me the opportunity to meet the most amazing people. Whilst I'm sure most of us have lost contact with one another, I'm grateful for the memories we share. I had a wonderful twelve years, and I look back fondly on the good times.
Elok Cheung – Sha Tin College, Class of 2013, House of Hillary