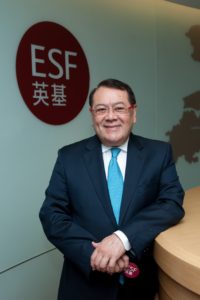 Fifty years is a remarkable achievement for any institution. This occasion gives us a chance, not only to celebrate our Golden Jubilee, but also to pause and reflect on our 50-year education journey in the service of generations of families and young people in Hong Kong.
I am personally honoured and delighted to be part of ESF on the occasion of this memorable anniversary. ESF has changed in nature over those 50 years, evolving from a group of schools primarily serving the British ex-patriate community. It has now become more international, inclusive and outward-looking while retaining the very best of its education tradition. It remains a group of schools where students learn through the medium of English, but the student body now comprises learners from over 60 nationalities, benefiting from world-class, English-medium education in a setting, rooted in Hong Kong but with a global perspective.
This rich diversity within our student body is now one of our key strengths. Hong Kong is noted for having the very highest educational expectations in the world. As the desire for high-quality education has grown, ESF has responded to meet this demand. In the future, we will continue to ensure that ESF is responsive to Hong Kong's changing needs. We will achieve this through continuing our approach of delivering a broad and balanced education and through focusing on the quality of every student's experience, personal growth and development. The contribution of the wider ESF family: our supporters, our dedicated staff and especially the students themselves are testament to the successes of these approaches and to ESF's current good health.
ESF is therefore now in a very strong position. As we move into a new era, we need to continue to be agile in responding to the needs of the communities we serve, maintaining a laser-focus on the quality of learning and teaching in our schools and the provision made for students' welfare. The ESF 5-year Strategic Plan sets out how we aim to achieve our vision 'for every student to be the best they can be' and will serve as our guide in the medium term. Longer-term, I am confident that with the leadership we have both at the centre of our organisation and in our schools, we should have great confidence that ESF will continue to grow and respond to the challenges and opportunities which lie ahead.
I look forward to working with my fellow ESF Board members, our committees and everyone in the wider ESF community to ensure that ESF continues to flourish and serve Hong Kong for the next 50 years and beyond.
Yours sincerely,
Abraham Shek
Chairman of ESF