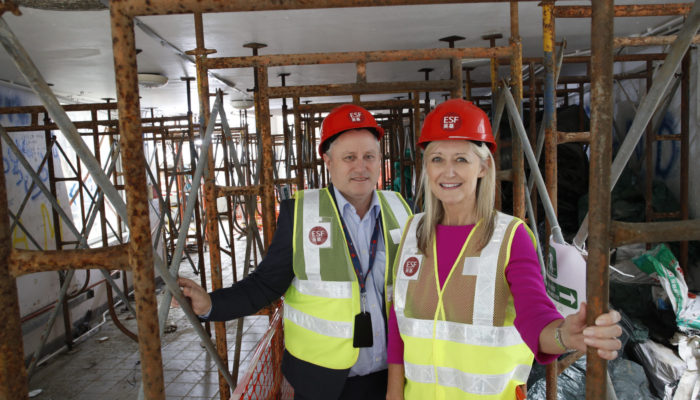 Demolition Work Begins at ESF Island School
中文 (香港)
First step towards completion of new HK$1 billion school on the site
Demolition work began today at ESF Island School on Borrett Road – paving the way for the construction of a new HK$1 billion school on the site.
This is the first major step of the Island School reconstruction project – which will see the new state of the art school open at the start of the 2022/23 school year. This is the most ambitious school build project ever undertaken by ESF and, when complete, the new Island School will host 1,200 students on a site of over 12,142 square metres in size.
Speaking about the start of the demolition work, Belinda Greer, Chief Executive Officer of ESF said: "Today is a big step forward in achieving our goal of delivering a brand new, state of the art school for Hong Kong. Island School is one of our oldest and best known schools, but the work that starts today is not about demolishing the past, it is about building a new future.
"I am hugely grateful to the Hong Kong Government for the way in which they have backed our vision for the new Island School – and I am equally as grateful to our neighbours on Borrett Road for the way in which they have worked with us to get us to this point.
"When the new Island School opens in a few years, it won't just be one of the best schools in Hong Kong, it will be one of the most impressive in the world. ESF is a world class education system, but we have ambitions to go beyond that – to be world leaders. This new school is the embodiment of the scale of those ambitions."
The Principal of Island School, Stephen Loggie said: "This is a landmark day for our school community and for ESF. The project has been many years in the making – so for us to reach this important milestone is of real significance for the current students – and the generations who have preceded them.
"We are enjoying our temporary home in Sha Tin and we are delighted that the local community have embraced us so warmly.
"However, Borrett Road is our true home – and we cannot wait to get back."