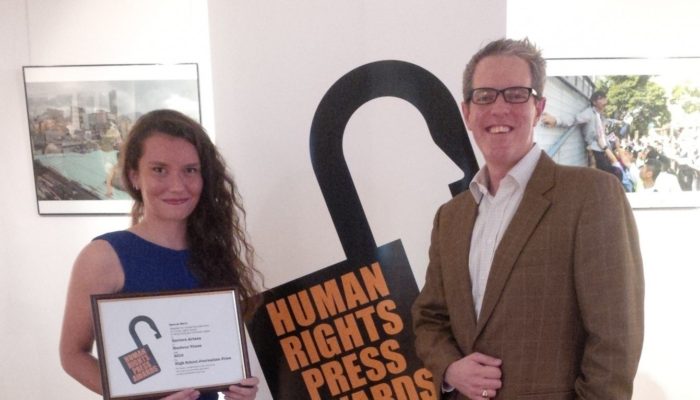 ESF student shines a light as young journalist

中文 (香港)
The English Schools Foundation (ESF) is delighted to announce that Xaviera Artaza, a Year 12 student from ESF West Island School, won the High School Journalism Prize at the Human Rights Press Awards this year. She is the first high school student to win the award after being published in a professional publication.
Her winning piece "Disenfranchised: Education for Non-Chinese-Speaking Children in Hong Kong", which went on the cover of Harbour Times magazine last July, examines the struggles faced by non-ethnic Chinese in getting a quality education in Hong Kong leading to a lifetime of discrimination and disadvantage. (Her winning story: http://harbourtimes.com/2015/07/23/disfranchised-education-for-non-chinese-speaking-children-in-hong-kong/)
Xaviera competed against a Year Four journalism student from a local university. Joyce Lau, Director of Human Rights Press Awards, noted that it was the first time in the history of the Awards that a high school student had won after being published in a professional publication.
Xaviera joined West Island School in 2011. She is the daughter of Mario Ignacio Artaza who was also a journalist before becoming Consul General of Chile in Hong Kong. Being deeply inspired by her father, she is determined to become a professional journalist.
"My father taught me everything and made me the person I am today. He allows me to live such a privileged life and explore new places, as well as pushing me to pursue and support me when I doubted my own abilities," Xaviera said.
The Human Rights Press Awards, which is run by the Hong Kong Foreign Correspondents' Club, Amnesty International Hong Kong and the Hong Kong Journalists Association, was held on Friday, 6 May 2016.
Photo caption: Xaviera and Mr Andrew Work, Publisher of Harbour Times