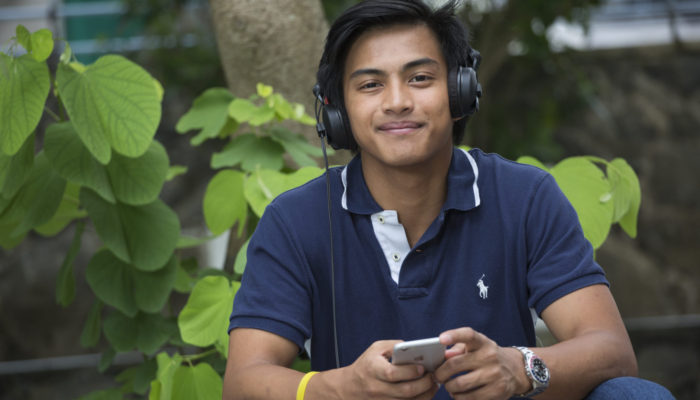 The Making of a DJ – Jamie Maddock
In front of a concert hall of 6,000 screaming EDM fans, young Jamie Maddock took to the stage in what would probably be the defining moment of his burgeoning music career.
It was the antepenultimate act of a five-performance ensemble at the Asia World Expo in December 2015 when the Island School graduate, now 20, realised he was not just any DJ, but a respected one beginning to make a name for himself.
"It felt amazing. It was surreal," said Jamie, who that night shared the line-up with big names such as Major Lazer, Jack U and Cashmere Car, among others.
"Ever since, people started recognising me around Lan Kwai Fong saying 'hey you're that guy who played at Mad Decent!'"
Jamie was born in Hong Kong to an English father and Filipino mother in 1996. While admitting to never being talented in music in the conventional sense ("I did always try to play the bass guitar but was never really good at it"), his record-collecting musicophile father managed to instil in him a passion and ear for it.
"My dad used to collect a lot of compact discs and compilations of the Ministry of Sound. He listens to a lot of music so I kind of got it off him. We used to listen to a lot of music in the car when we were driving around with the family."
After moving to Hong Kong in Year 8, Jamie began studies at Island School. It was not until Year 10, that he fell in love with EDM (electronic dance music).
What began as teenage fervour soon evolved into a rather serious hobby. "I started looking at DJ equipment and sort of began to learn the basics myself sort of through trial and error. I didn't really know what was what.
"I wanted to go bigger. It all seemed a bit mediocre and childish. It didn't seem professional." More trial and error followed and soon enough, he managed to convince his dad to invest in a Pioneer CDJ-2000 Nexus DJ set – which he continues to use today.
Jamie began mastering basics, recording mixes and fine-tuning his craft. By sixth form, he was beginning to get gigs and requests to perform at events. He was signed to a company, Sigma Productions, and given the opportunity to play at various establishments in Hong Kong and even in China.
Throughout secondary school, his DJ name was "Adivo".
"By Year 12, it kind of got serious. I knew I had a passion for music. That was when I knew that I wanted to make it my career."
As a full-time student, Jamie admitted that his pursuit had come at some cost. He'd go to school after a late night out at work and sleep in the common room for a few hours or miss classes.
"I did get quite upset with myself because I was missing classes and teachers were pretty mad about the whole situation. But they understood what was going on and told me to manage and organise my time better."
Life as a DJ, he stresses, is not always as glamorous as it may seem. He recalls nights where he would have to run multiple jobs, frequent travelling and meeting tight deadlines. Sets can fail in the most embarrassing of ways. He vividly recalled the horror when a technical glitch during a set cut off the music for nearly 10 minutes, prompting heckling from some in the 400 strong crowd and angry walkouts.
"After dealing with that, you kind of learn to adapt. You become technical and when something goes wrong you'll know what to do and not freak out so much," he said. "What I try to do is to just focus and try to think positively. I always think everything will get better eventually."
Something Jamie would never regret was his choice of taking BTEC – he studied sport, business and travel and tourism – instead of the IB diploma. This gave him ample time and space to work on his music. "IB wouldn't have allowed me to take DJ-ing seriously."
He advises pupils entering sixth form, especially those with an interest in music or the arts, to consider such options with an open mind.
"Focus on yourself and be happy with the choices you make. Don't be so scared of what other people may think of you like 'oh you should take IB not BTEC'…Don't let others talk you into doing things. Do what you feel is right and trust your gut."
Jamie graduated from Island School in 2016 but not before leaving his alma mater with a memorable parting gift. In June, he performed at the school's Gala Dinner, working up the crowd with funky throwback 1980s and 1990s hits, such "YMCA" – but with a Jamie Jamie twist.
Therein lies the science of commanding the dance floor. "You've got to play songs that people can sing along with and is new and then add a remix of it just to give it an up-vibe."
After spending a gap year DJ-ing at top nightclubs in Hong Kong and around the world, Jamie moves to London this month for two years to study music engineering and music business at a music school supported by Middlesex University called Point Blank, based in Shoreditch.
"Back in high school… lot of my friends used to make fun of me, shouting 'hey, its DJ Adivo!' I made these Adivo stickers and all my mates would have them on their laptops. Some of them actually still have them so it's kind of funny just to look back and think that was what I started off with.
"As for now my DJ name is just Jamie Maddock. I might change it after two years. Who knows?" Either way, his will be a name to watch.