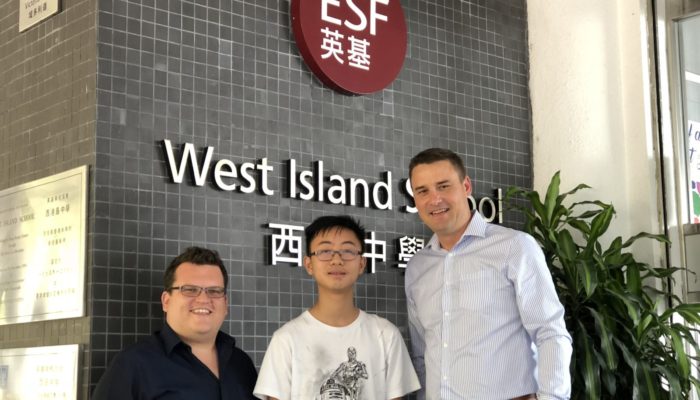 Two ESF students crowned Top in the World in IGCSEs
ESF schools continue to achieve outstanding results in public examinations. Our students again hit the IGCSE* worldwide scores with two awarded "Top in the World" by the Cambridge International Examinations (CIE) for their fabulous performance during the June 2018 IGCSE examinations.
The two exceptional award winners were Garris Choi from ESF West Island School (middle in the picture above) and Jerrick Lee from ESF Island School. Garris was the top in the world for International Mathematics, and Jerrick for Foreign Language Mandarin Chinese.
This year, 11 ESF students from Sha Tin College (STC), West Island School (WIS), South Island School (SIS), Island School and King George V School (KGV), were awarded "Top in the Hong Kong" and four others achieved the "High Achievement" award. Subjects included Additional Mathematics, Computer Science, Music, Physical Education, Co-ordinated Sciences, Drama, World Literature, Business Studies, Foreign Language German, Thinking Skills and Enterprise.
Well done everyone!
*The full name of IGCSE is International General Certificate of Secondary Education.
Top in the World awardees
Garris Choi, ESF West Island School (International Mathematics)
Jerrick Lee, ESF Island School (Foreign Language Mandarin Chinese)
Top in Hong Kong awardees
ESF Island School
Wong Mei Kiu (Chinese as a Second Language)
ESF King George V School
Gargi Prasad Kawachale (Business Studies)
Milla Merazzi (Drama)
Gaurav Arya (Foreign Language Spanish)
Elly Hung (World Literature)
ESF Sha Tin College
Eugene Lau (Additional Mathematics & Co-Ordinated Sciences)
ESF South Island School
Yan Phu (Physical Education)
ESF West Island School
Garris Choi (Computer Science)
Tanushree Banerjee (Additional Mathematics)
Thompson Lee (Music)
High Achievement awardees
ESF King George V School
Justin Li (Foreign Language German)
ESF South Island School
ESF West Island School
Pui Hang Ng (Thinking Skills)
Williams Tai (Thinking Skills)