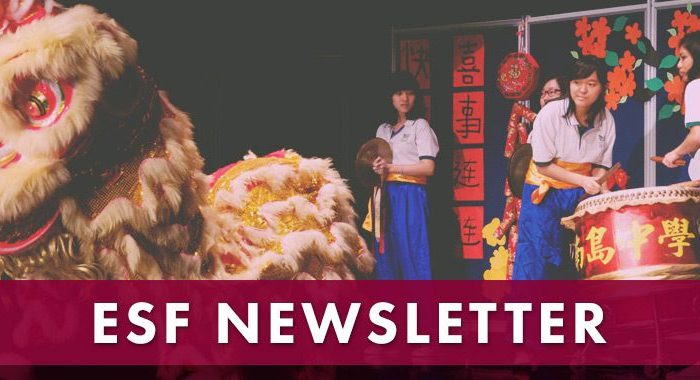 ESF Newsletter 20th June '16
The ESF's latest newsletter is available to read now. Find out the latest news from our schools and around the organisation.
Message from [Name]
Dear Parents and Colleagues
Another productive and successful academic year draws to an end. This year, we launched the new Strategic Plan: A vision for 2015-2020, which sets out a clear direction for our work. The new strategy builds on our strong foundation and responds to potential changes, challenges and opportunities in the Hong Kong educational landscape.
We are excited that our fifth kindergarten will open in August, enabling us to welcome more children into the ESF family. Our students in Year 13, who formed the ESF 2016 cohort have graduated. To recognise the outstanding achievements of the 2016 cohort, the ESF Chairman's Awards of Excellence ceremony will be held on 25 August 2016 at Island School.
For a number of teachers and staff this will be their final term with ESF. To acknowledge and thank long serving staff for the contribution they have made to their schools and to ESF. A leavers' party was held on Tuesday, 14 June 2016.
We would like to take the opportunity to thank you all for the support to ESF throughout the year and to wish everyone a good summer break.
Regards,
[Whoever is writing the newsletter]
ESF welcomes new Board member
We would like to welcome our new Board member and Treasurer – Mr Samuel Houston. Sam is replacing Mr Robert Gazzi, who has recently stepped down after serving six years on the Board, as an Independent Member and Treasurer. Sam has been a co-opted member of ESF Finance Committee since 2014.
We wish Sam the best in his new term of office. We would also like to take this opportunity to thank Robert for his support over the years.
Click HERE to see the latest composition of the ESF Board of Governors.
Gateway demographic information changes
The end of year 2016 report will be posted to you soon, please make sure your postal address is correct on the Gateway, to submit any demographics information change, login to Gateway and go to 'Admin> Change Request' and submit changes. The changes will be reflected in your account within the next 2 working days.
If you have any problems you can contact me at ken.lee@qbs.edu.hk.
Order Your Year Book
The QBS Year Book 2015/2016 is ready for ordering. The price is $110 each. Please click here for more information and to place your order using the online form.
Summer (Book) Borrowing 2016
Dear Y1 – Y5 Parents,
Research has shown that the long summer holidays can produce what is known as the summer slide. This is where children, particularly struggling readers, don't read and actually take backwards steps due to a lack of practice. Many children forget what they have learned or slip out of practice during this time. Supplying readers with interesting and accessible books leads to improvements in reading, whilst self-selected voluntary reading leads to the greatest gains in reading achievement and other aspects of literacy (Krashen, 2004.)
At QBS we would like to take some preventative measures to ensure that our students continue to make good progress during the summer holidays, therefore we are offering Summer Borrowing to those children currently in Years 1 – 5 who will be continuing their learning with us in August 2016. Each child will be allowed to borrow up to 10 books. We have run this program for several years now and it has proved to be very popular with both children and parents. People are often concerned about the amount of books we might lose over the summer, but let us reassure you that at QBS our children value and look after Learning Centre books.
REQUIREMENTS
In order to qualify for our summer reading program your child needs to have NO OVERDUE LOANS, therefore all books will need to be returned DURING THE WEEK 6TH- 10TH JUNE.
Years 1 & 2
During our Celebration of Learning day on 10th June the Learning Centre will be open for Y1 & 2 only. Your child will be allowed to borrow up to 10 books. It is hoped that you will come with your child and help to select books of interest. It would be best if you could come along at your designated time slot for the Celebration of Learning, as we will be very busy during the day and this will help to stagger the number of children borrowing.
Please bring a waterproof bag – this will help keep the books clean, dry and together.
Years 3- 5
PARENTS MUST SIGN UP to give permission for Summer Borrowing, using the e-notice (to complete on Gateway) that will be sent via email on THURSDAY 2ND JUNE. Years 3, 4 & 5 will then have the chance to borrow their books during their regular library sessions, Monday 13th-Friday 17th June. Please give your child a waterproof bag to bring on their borrowing day, as this will help keep the books clean, dry and together.
RETURNS
The books will be returned to school during the first two weeks of term. There will be a drop box at the Reception for book collection. You or your child could return the books to the drop box or they can bring the books to return during their regular library sessions in week 2.
Please encourage your child to participate in this program as we believe it is extremely worthwhile. We are very excited about this and can't wait to see our shelves emptying and our motivated and confident readers returning in August.
Anna Trunkfield & May Tang.
learningcentre@qbs.edu.hk
Krashen, S. (2004) The Power of Reading: Insights from the Research, 2nd edition. Portsmouth, NH: Heinemann.
ESF Summer Camps
ESF Summer Sports Camps
27 June – 12 August 2016
Summertime is the time to get out and get moving. With an ESF Sports Camp your child will do just that! Providing a safe and enjoyable environment for students, ESF Sports keeps FUN central to our programme. Our enthusiastic approach combined with expert coaches with a passion for sport, enables every student to develop a broad spectrum of acquisition skills to increase their self-confidence in a range of activities, both as an individual and within a group or team dynamic. Enrol online www.esf.org.hk.
Click here for more.
ESF Summer Language Camps
4 July – 26 August 2016
As a premier provider of extracurricular English language and enrichment education in Hong Kong, we look forward to your children joining us this summer for exciting and rich learning experiences across a VARIETY OF COURSES. Suitable for all pre-school and school age students, our small group courses are run by our friendly, qualified, English speaking teachers. Enrol online www.esf.org.hk.
Click here for more.
PTA News
Events
2016/2017: PTA Events Committee
Your PTA looks forward to planning and organising more fun-filled, and exciting events in the new academic year. If you would like to join our Event Organising Team in the upcoming year, then please send an email to mona.diwan@qbs.edu.hk expressing your interest NOW!
Paddyfield's Spring BookClub
All orders are due to be delivered before the end of this academic year.
PTA School Buses
No School Buses will be operating on the following days:
10th June 2016: Celebration of Learning Day
PTA SUBSCRIPTION FEES 2016/2017
Since the inception of the ESF Ordinance (2008) – all parents have been required to join and become members of their child's School PTA.
To facilitate ease of payment of the PTA subscription fees, parents can now pay this fees together with the bus fees as stated on the bus application form. This fee is a one fee per family annual payment.
In the event that you do not subscribe to the school bus service you will be required to send a cheque to ESF centre directly, upon receiving their invoice in June.
We will liaise closely with ESF to avoid duplicate receipt of payment. All duplicate payments will be refunded back to the parents.
PTA Shop
Shop closure for summer break
The PTA Shop will close for summer break commencing 17th June 2016. The shop will re-open 1 week prior school on: 8th August 2016 [9:00am-12:00noon]
Feedback or Suggestions
If you have any feedback or suggestions you would like to give on our event or services provided, please email directly to: ptasuggestions@qbs.edu.hk. Your email will directly be received by our Chairman who will reply you at the earliest available moment.
HELP US – IN OUR DRIVE FOR A GREENER ENVIRONMENT
We request all parents to support a greener environment by BYOB "bring your own bag" when you come to purchase items from the shop.
[With immediate effect the PTA Shop will no longer provide any shopping bags].
Please contact us on 2566 4242 (ask to transfer to PTA), or 2887 1004 for further queries, or by email to pta@qbs.edu.hk, during operation hours.
"Click here for PTA Office and Shop Operation"