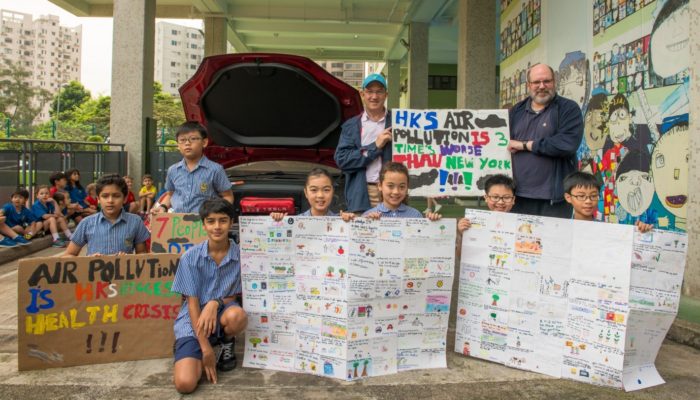 1,500 ESF students pledge to make a greener world
English School Foundation (ESF)'s mission is to inspire creativity and to nurture the global citizens and leaders of the future. Our comprehensive and extensive environmental education plays a critical role in achieving this. To celebrate this year's Earth Day, students from across ESF schools pledged to live green and make the world a better place.
Green living begins with lifestyle. Over 1,500 students from Clearwater Bay School, Glenealy School, Peak School, Kennedy School and Renaissance College pledged to live green, starting from saving energy and water to refusing the use of straws and not wasting food.
"My pledge is to turn off the tap while I am brushing my teeth. I want to save fresh water. We need water or we will die," said Ethan Lo, a Year 3 student from Renaissance College.
"I will turn off the lights when I am not using them. So I would not waste electricity and cause air pollution from the coal," said another Year 3 student, Leonardo Martinello, from Renaissance College.
"My family had never thought about taking the leftovers home before. But after I wrote the pledge, they might make the change," said Zahra Hui, a Year 6 student from Peak School.
The event was organised by Charged Hong Kong, a Hong Kong registered charity promoting electric vehicles and sustainable transportation. The organiser has collected a million pledges from children all over the world. The pledges, which were written on small cards, will then be taken to Geneva by electrical vehicles and displayed as part of a huge collage to influence world leaders and increase their commitment to reversing climate change.
"Our students saw first-handed how important it is to make their voices heard on the world stage. As global citizens, they felt part of a much bigger plan to help stop climate change and ensure a brighter future for everyone," said Lesley Davies, ESF Education for Sustainable Development Coordinator.