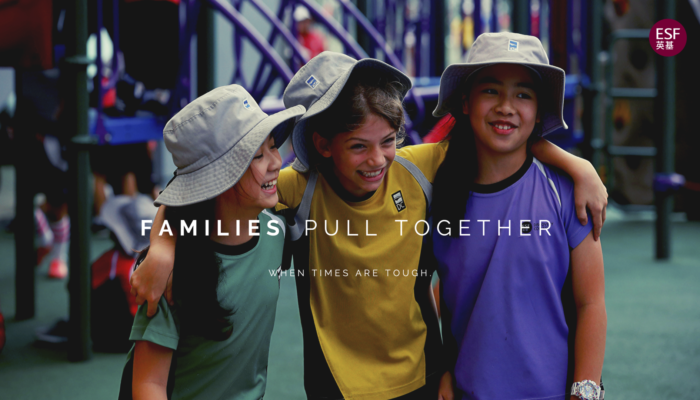 Message from Belinda Greer
Dear Parents
The human cost of this global event has been hard to comprehend – and the economic impact of the pandemic is, I know, being felt keenly by many of our families. Earlier this year, ESF took the step of freezing next year's fees in order to play our part in helping Hong Kong recover from this awful situation that our city – and our world – finds itself in.
However, for some of you, I know that this step, welcome though it may be, does not give you the assistance that you need right now. Some of you have had your hours cut, or have been asked to take unpaid leave, others have lost their job altogether. Many of you who run your own company have seen your business struggle to cope with the impact of the coronavirus.
That is why we are today launching our new 'Triple Assistance Package' for parents. As the name suggests, there are three elements:
All ESF families who currently pay fees will be able to quickly and easily opt in to receive a grant equates to 45% of their June fees.
The extension of the current Financial Assistance Scheme to include the families of Year 1 and Year 7 students – as well as families of students in ESF Kindergartens and of students who have joined ESF within this current academic year.
The launch of a new 'Covid-19 Emergency Assistance Scheme' that will offer fast-track support to families – giving you the option to defer up to 50% of your April, May and June 2020 fees – with the option to pay back over 24 months starting in January 2021.
Your school will shortly be writing to you to allow you to opt in to receive the June fee discount. It is important that you respond quickly – and certainly no later than May 7 (extended to 17 May). You can get more detailed information about all of these schemes in the 'Triple Assistance Package' online at this webpage: www.esf.edu.hk/tripleassistance.
In times of trouble, families pull together. You are our family – and we want to do what we can to help get you through these extraordinary times.
Thank you.
Belinda Greer
Chief Executive Officer
English Schools Foundation