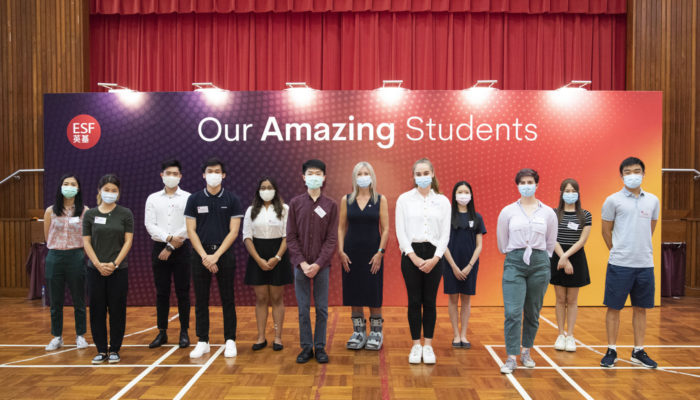 ESF Students Lead the World in IB Diploma
ESF students average 36.9 total points in IB Diploma – the highest ever for ESF and 7.2 points above the global average (updated 19 Aug)
23 students achieved top marks – with each ESF school having at least one 45-point student. A further 39 students scored 44 points (updated 21 Sept)
70% of ESF students score 35 IB points or above (updated 19 Aug)
"These are extraordinary results, achieved by extraordinary students in extraordinary times," ESF's Chief Executive Officer, Belinda Greer, said today.
She was speaking as the International Baccalaureate released their results for 2020. ESF once again achieved results far surpassing the global average – with 39 students achieving 44 points or more – and 23 students achieving the top score of 45 points.
The ESF results are summarised as follows:
| | | |
| --- | --- | --- |
| | ESF results (Aug 2020) | Worldwide results (May 2019)[1] |
| Students awarded the Diploma (24 points or more) |  99.7% | 77.8% |
| Average point scores for all IB Diploma students | 36.9 points | 29.7 points |
| 30 points or more | 94% | 51.5% |
| 35 points or more | 70% | 25.4% |
| 40 points or more | 33% | 7.6% |
| 44 points | 39 students | 0.6% |
| 45 points | 23 students (as of 21 Sep) | 275 students |
"These are, once again, an extraordinary set of results for our students. That they were achieved in one of the most tumultuous years in recent history makes them even more impressive. Be in no doubt: ESF is a world leading education system.
"This will be a day of celebration for many people. Our teachers and staff will be overjoyed to see the success that has been achieved by their students – and, I know, that parents, families and friends will be simply bursting with pride. This is a special day.
"Our top scorers deserve our most special congratulations. The IB Diploma is a demanding qualification, made even more so in the face of the unprecedented challenges that our students have had to face. So, to score a 44 or a 45 is truly remarkable. This incredible day is the culmination of years of hard work and dedication.
"The promise that we make to our parents when they entrust us with their child's education is a simple one. We say that we will stop at nothing to help every single student be the best that they can be. The extraordinary success we have seen today, at all levels and in all of our schools, is a sign of how seriously we all take that promise."
ESF Chairman, Abraham Shek, joined Belinda Greer in congratulating the students:
"When term started back in August last year, nobody could have predicted what was to follow. That our students could achieve such incredible results shows that they are living our vision: they are the very best that they can be. I want to offer my congratulations to every single student and their families and, of course, to all of the ESF teachers."
This year, 23 ESF students achieved the maximum 45 points. They include:
ESF Discovery College
Taylor REIS
Lauren Ella TARRANT
ESF Island School
Christy CHAU
Charlene CHOW
Hannah Suhjune LEE
Anya Frances SAUNDERS
WONG Mei Kiu, Georgia
ESF King George V School
Jun Yeji LIM [Bilingual Diploma]
Jason MA
Sandeepti SINGH
ESF Renaissance College
Jasmine Chae Won LEE
Athena YIM
ESF Sha Tin College
Eugene Yuet Chee LAU
Maggie SO Mei Ke
George SU [Bilingual Diploma]
Athena TSANG
Gavin YEUNG
Charmaine YUEN
ESF South Island School
Canaan CHAN
Vereta GOUR
Dicky LIM
ESF West Island School
Garris CHOI
Victoria Chu-yun HUANG
(Data as of 7 October)
Another 39 ESF students achieved 44 points. In 2020, over 174,355 students from around the world entered for IB Diploma examinations. Students choose six subjects, for which they can be awarded a maximum of seven points each. A further three points can be earned from an Extended Essay and a Theory of Knowledge course. At least 24 points must be achieved to qualify for the IB Diploma and students must successfully complete a Creativity, Activity, Service programme (CAS) of their choice.
An overview of the public examination results of ESF students in previous years is available here: https://www.esf.edu.hk/public-exam-results/
[1] Worldwide results for the IB Diploma are for May 2019, as the full 2020 data is not available until November. Statistics show that these percentages vary very little year on year.