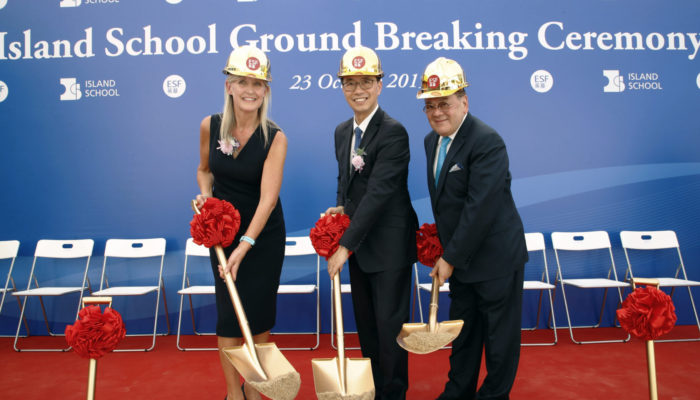 ESF Breaks Ground on New Island School
中文 (香港)
Demolition of current site now complete
Work begins in earnest on new billion dollar school
Students expected to enter new school in August 2022
"This will not just be one of the finest schools in Hong Kong, when completed it will be up there amongst the world's best", Belinda Greer said today.
The CEO of ESF was speaking at the Ground Breaking ceremony of the new Island School in Borrett Road.
The one billion Hong Kong dollar project is the largest in ESF's over 50 years of history – and will see a complete rebuild of Island School, one of the oldest and most prestigious educational establishments in the City.
Belinda Greer was joined at the ceremony by Kevin Yeung Yun Hung, JP, Secretary for Education as well as other dignitaries including the Chairman of the ESF Board, Abraham Shek and Daanyal Ebrahim, Head Boy and Natasha Mather, Head Girl of Island School.
Belinda Greer said:
"This is a momentous day for ESF and for Hong Kong. Today we are not just breaking ground on what will be one of the finest schools in Hong Kong. When completed, the new Island School will be up there amongst the best schools in the world."
"Tens of thousands of students walked through the doors of the old Island School. All of them received the world leading education for which ESF is renowned. When we open the doors on the new School in a few short years, the students will have access to incredible facilities, world class teachers and purpose built spaces that have been designed to deliver a 21st Century education."
"We are incredibly grateful to the Hong Kong government for the support that they have given to this project. We also want to thank our neighbours here in Borrett Road for their patience while we build this incredible new school for the City."
Mr Yeung said: "ESF is one of our close counterparts in the development of a vibrant international school sector. Since the establishment of its first school in 1967, ESF has been committed to the provision of quality education and all-round development to our youths through various means, including enhancing the teaching and learning environment. To this end, I am delighted to join the Ground Breaking Ceremony of the Island School Redevelopment Project today, which marks a key milestone in the delivery of this redevelopment project jointly funded by the Government and ESF. May I wish a smooth sailing of the innovative and community-friendly project and look forward to seeing the new campus in 2022."