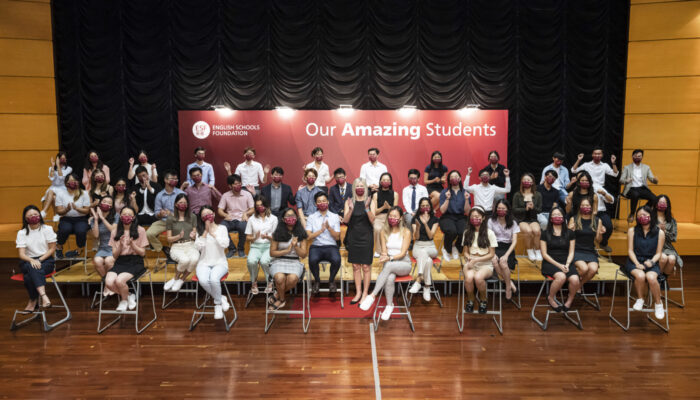 64 ESF IB Students On Top of the World With Extraordinary IB DP Results
Updated: 12 Nov 2021
Under extremely challenging circumstances, ESF students have performed outstandingly, producing the strongest set of results ever since schools in the ESF system started the International Baccalaureate (IB) Curriculum in 2009.
Sixty-four students (updated on 5 Aug) attained the maximum possible score of 45 points, 84 students also scored 44 points, 90 students 43 points and overall, 915 students gained their IB Diploma – at a 99.3% achievement rate.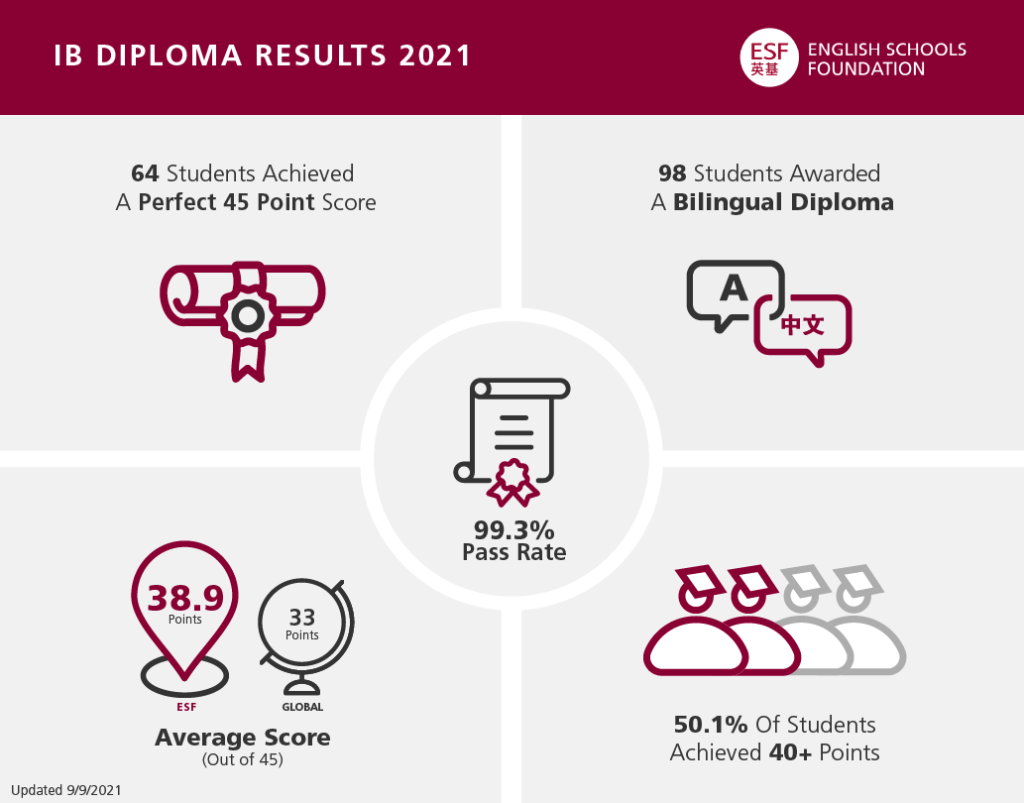 "These results are a bright beacon of hope and a real testament to the hard work and dedication of our ESF students," said Belinda Greer, ESF's Chief Executive Officer.
"The IB Diploma is an academically rigorous qualification, made even more so by the continuing difficulties faced by Hong Kong and the rest of the world. All of our students have done extremely well.
"ESF as well as parents, families and friends are so proud – and justifiably so," she added.
ESF's full results are below:
| | | |
| --- | --- | --- |
| | ESF results (May 2021) | Worldwide results (May 2021) |
| 45 points | 64 students (6.9%) | 1,187 (1.4%) |
| 40 points or more | 461 students (50.1%) | 15,970 (18.3%) |
| 35 points or more | 762 students (82.8%) | 38,650 (44.2%) |
| 30 points or more | 895 students (97.2%) | 62,320 (71.2%) |
| Students awarded the Diploma | 914 students (99.3%) | 77,801 (88.9%) |
| Average point scores for IB Diploma Students | 38.9 | 33.0 |
ESF's new Chair, Dr Kim Mak, joined Belinda Greer in congratulating the students:
"I am deeply impressed with all our students this year and want to offer my congratulations to each and every one of them as well as sending heartfelt thanks to all the ESF teachers for their efforts and determination."
This year, 64 ESF students achieved the maximum of 45 points. They include:
Discovery College
● Seo Jin PARK
● Ulyssa FUNG
Island School
● Nikhita ATTALURI
● Christina KIM
● Gloria LEUNG
● Maria HO
● Ka Chun LAI
● Jaime LAM Yin Man
● Elliot CHOW
King George V School
● Ishita AGARWAL
● Adrian CHAN
● Abbie CHEN
● Emma CHOW
● Arianne CLIMIE
● Armaan DAYAL
● Nikita KUWADEKAR
● Kirsten LAI
● Erin LAW
● Joaquin Tomas D MAGNO
● Nidhi Pankaj SHAH
Renaissance College
● Richard SIU
● Jettie HO
● Jayne LEE
● Janet LIU
● Cheuk To CHUNG
● Justine LEUNG
● Gigi LING
Sha Tin College
● Jeffrey CHAN
● Ivan CHIU
● Anton CHING
● Zheng Yu CHOW
● Justin KIM
● Man Hin Royce LEUNG
● Andrea LEE
● Jasmine LEUNG
● Bryson LO
● Jason LO
● Hoi Lam NG
● Rochelle WONG
● Jodie WU
South Island School
● Bethia KWOK
● Norris LAM
● Jinsol LEE
● Jungjin LEE
● Yan Ho LEE
● Phoebe Nok Yan LEUNG
● Michele Gabriella LIU
● Zoe LU
● Joseph LU
● Ernie LUI
● Nicole LUK
● Joshua TONER CAWTE
● Justin YUNG
West Island School
● Sienna BERTAMINI
● Freya BOERNER
● Karin Daphne FONG
● Heejoon KIM
● Ji Yeon KIM
● Winston LAM
● Karen Kai Lam LEUNG
● Sahiti PEESAPATY
● Mavis TAI
● Nicole TAN
● Christina ZHAO
Download our photo here: