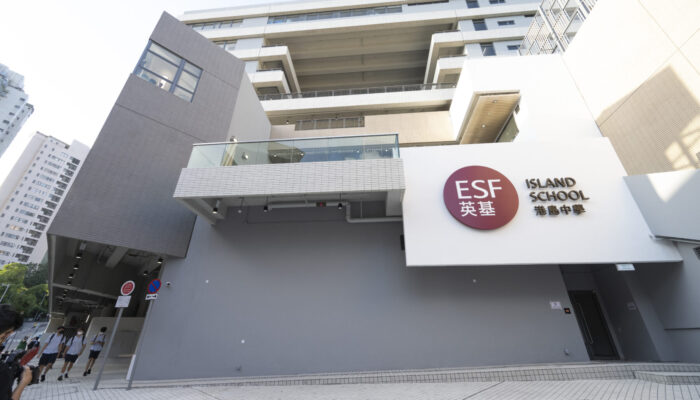 ESF Returns Home to Borrett Road
After more than four years of planning and construction, ESF welcomes students, families and the wider community to a state-of-the-art learning environment at its newly rebuilt Island School on Borrett Road. The facilities include extensive specialist facilities, a fitness centre, an indoor full-size basketball court, a swimming pool, a learning centre, a theatre space and a wellbeing hub.
The redevelopment project started with the relocation of all Island School's 1,200 students to temporary decant schools in Sha Tin, while the original campus was completely demolished and rebuilt.
Belinda Greer, Chief Executive Officer of ESF said: "Opening the new school campus is a momentous occasion for ESF. We are returning to Borrett Road, home to Island School. The new school, whilst on the original school site, has been completely re-designed and provides excellent facilities.
"Although the school building is new – three important things remain unchanged: the spirit of Island School, its world-class teachers and its partnership with parents. These three things, along with the state-of-the-art facilities, will ensure excellent learning experiences and outcomes for our students today, and for generations to come.
"We are incredibly grateful to the Hong Kong government for the support that they have given to this project. We would also want to thank our neighbours in Borrett Road for their patience during the construction of the new school, as well as our neighbours in Sha Tin who supported us throughout the decant period."
Stephen Loggie, Island School Principal added: "Our amazing new campus brings with it an opportunity to take our teaching and learning practices further and has been developed with much input from students and teachers.
"Additionally, we want to create a hub within the community not just for teaching, but also for collaboration, and partnerships."
John Stewart, ESF's Director of Facilities said: "The new ESF Island School campus is the largest construction project in ESF's history, delivered on time and within budget despite the challenges of the last three years. This has only been possible through the hard work and commitment of the ESF team, our consultants and the main contractor."
Click here to download more photos.
Click here for Chinese version.