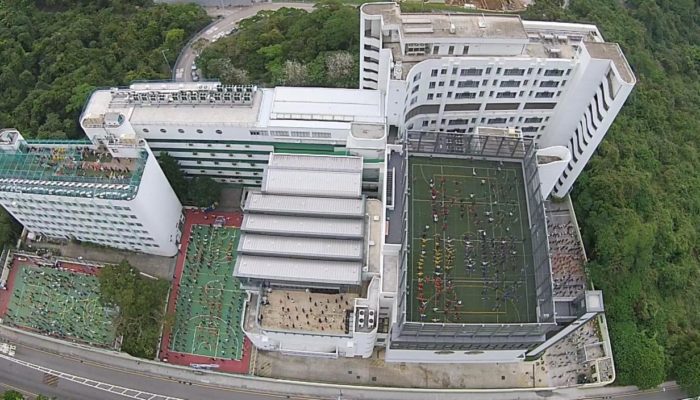 ESF South Island School breaks world record for charity
South Island School (SIS), a secondary school under the English Schools Foundation, set a new Guinness World Record* for "Most People Simultaneously Doing Jumping Jacks" on its school campus in Aberdeen on Tuesday 24 March 2015 for a charitable cause.
"It's great for South Island to hold a World Record. It was fun and enjoyable but the most important thing is our contribution towards the International Care Ministries (ICM) and our Malayang Mangarap (or Free to Dream) Kindergarten in Bacolod, the Philippines," said Graham Silverthorne, Principal of SIS. "We are committed to supporting our adopted kindergarten for five years. Our school's aim is to make a difference and we feel that this is one of the many ways that we truly can."
Out of the 1,449 SIS students who participated, 1,364 successfully completed the required two minutes of simultaneous star jumps, breaking the previous record of 1,254 people doing jumping jacks together in Japan in 2012.
The fundraiser was also a celebration of the first graduating class at Free to Dream Kindergarten. In total, SIS students raised HK$80,000 for ICM and Free to Dream Kindergarten.
"What better way to celebrate our first group of kindergarten graduates than for all SIS students to join together to ensure the future of the generation that follows," said Silverthorne. "We dedicate this achievement to them and the much-needed funds raised will help them develop and flourish into a school that nurtures many more students in future."
"Any whole school event is great for pulling our school community together, but this event will be particularly beneficial, because it resonates so well with so many of our school values," said Fran Crouch, SIS' 'Making a Difference' Coordinator. "Doing Jumping Jacks is also a great way of going back to our own childhoods – it suits the age group of the children we are supporting."
*subject to final confirmation