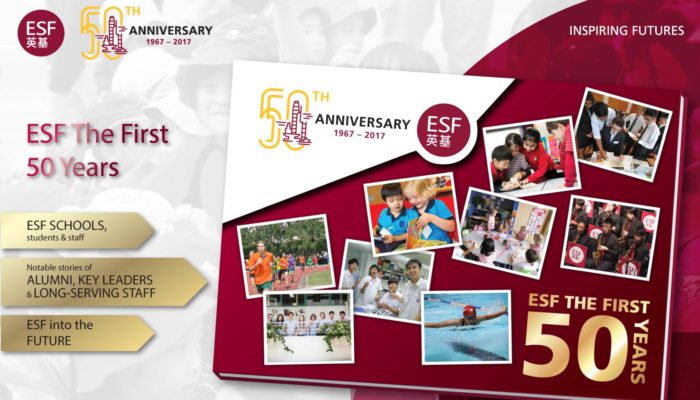 'ESF The First 50 Years': New Commemorative Book Published to Chronicle ESF's 50-year Story
中文 (香港)
For the English Schools Foundation (ESF), 2017 marks 50 years' service to Hong Kong. To capture ESF's half-century journey and its service to Hong Kong, we have published a commemorative book: ESF The First 50 Years. This volume chronicles the ESF story, highlighting key events over the last 50 years. It also celebrates the successes and contributions of our students, staff and alumni.
ESF was founded in 1967 with two schools – Beacon Hill School and Island School. Now, ESF has grown to a family of 22 schools serving 17,500 students with over 60 nationalities across all school stages from the early years to upper secondary education.
The book will walk you through the changes in the curriculum, introduction of innovative teaching practices as well as new management approaches. It tells the story of how ESF has been evolving with the changing educational landscape, paving the pathways to success for young learners.
"Providing a model of education that is relevant today and also prepares students for life in a rapidly changing world requires us to be agile and responsive to changing need," said Belinda Greer, ESF Chief Executive Officer. "We have to discriminate between passing fashions and substantive changes. Our teachers today facilitate enquiry-based learning, focus on skills and make progressively more use of digital technologies. Importantly, we reflect continuously on how best to prepare our students to face a future, characterised by change and ambiguity with confidence. Through focusing on all students as individuals, responding to their unique talents and needs, we shall continue to develop ESF's model of education."
In the book, interesting stories of outstanding alumni are featured. They shared about their memorable school lives and how ESF has inspired them to become who they are today. Prominent alumni include Ms Christine Loh, former Under Secretary for the Environment, Ms Cathy Lee, prominent philanthropist, Mr Justin Sweeting, co-founder of the Clockenflap music and arts festival and Ms Loletta Chu, Honorary Life President of the Wai Yin Association.
"ESF will build on the legacy of our first 50 years by inspiring futures for generations to come. We are immensely proud of our students, who graduate as independent, well-rounded individuals, confident to take their places in leading roles in Hong Kong and the wider world," said Belinda. "We value our alumni who daily make their mark in the great universities of the world, in their professional and vocational careers, and through the significant contribution they make to society and to their communities."
ESF The First 50 Years is now available for sale via the ESF website: www.esf.edu.hk/50th-book/ or at ESF Centre. Copies will also be available in major bookshops by late December. Price: HK$450. Enquiries: 50book@esfcentre.edu.hk
Details of ESF's new commemorative book:
Book title:
ESF The First 50 Years
Publisher
English Schools Foundation, Hong Kong
ISBN:
978-988-99764-0-8
Publication date:
December 2017
Format:
Hardback, 245 pages
Dimensions:
300 x 215 x 18mm
Language:
English
Price:
HK$450
Highlights:

Major developments of ESF
Stories of ESF alumni, key leaders and long-serving staff
Feature articles and milestones of 22 ESF schools

Some of the prominent alumni featured:

Christine Loh, Former Under Secretary for the Environment
(ESF Island School)
Loletta Chu, Honorary Life President of the Wai Yin Association (ESF King George V School)
Alan Sihoe, Clinical Associate Professor in Thoracic Surgery at the University of Hong Kong (ESF King George V School)
Justin Sweeting, Co-Founder and Music Director of Clockenflap (ESF Glenealy School and Island School)
Alia Eyres, CEO of Mother's Choice
(ESF Bradbury School and South Island School)
Cathy Lee, Hong Kong Philanthropist
(ESF South Island School)
Jamie Bilbow, Presenter of CCTV Origins of Food
(ESF Sha Tin College)
Geoffrey Cheah, 2016 Rio Olympic Swimmer
(ESF West Island School)
Vivian Kong, 2016 Rio Olympic Fencer (ESF Sha Tin College)
Marin Minamiya, the world's youngest to ever climb the seven highest summits and reach both North and South Poles
(ESF South Island School)
Michelle Li, Co-Founder of Entertainment magazine MadbuzzHK (ESF Renaissance College)