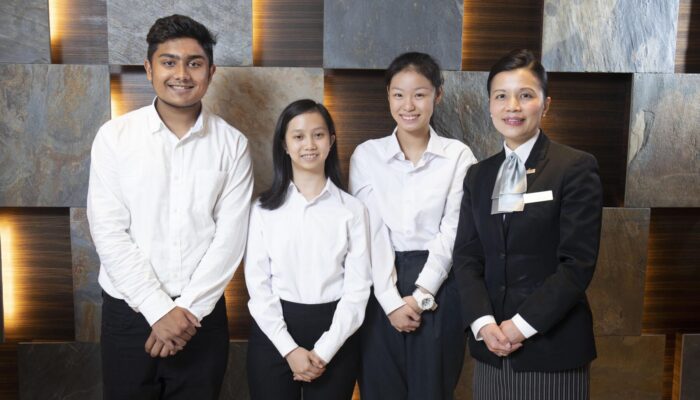 Student Success Brewing Due to New ESF Hospitality Partnership
Click here for Chinese version
Aspiring hospitality and culinary secondary school students now have a fast track pathway to studying for a brand new Bachelor BA Degree in Hospitality Management due to a recently developed partnership between the English Schools Foundation (ESF) and the Business & Hotel Management School (BHMS) in Lucerne, Switzerland.
In the first of its kind, this joint venture will enable ESF secondary school students to enrol in the BA Degree in Hospitality Management, Global Business Management and Culinary Arts programme upon successful completion of the International Baccalaureate Diploma Programme (IBDP) or the International Baccalaureate Career Programme (IBCP). BTEC students can also apply by attaining 180 credits in the BTEC Extended Diploma Programme.
"These programmes in culinary arts and hospitality allow our students to align their interests and abilities with career opportunities in the future," said Belinda Greer, CEO of ESF.
"It provides them with a unique learning experience in the authentic environment of a full-scale teaching hotel and state-of-the-art culinary facilities."
Each placement comprises a six-month full time study period on campus followed by a six-month paid industry training in Switzerland or elsewhere, allowing the students to gain hands-on experience and enabling them to form vital connections and networks with industry professionals.
"It is really gratifying that BHMS recognises the worth of the real-world experience these students gain, by understanding how it advances these students in their chosen specialities.
"The alignment that exists between our two organisations is the common purpose of providing acceleration and advancement for our students' career aspirations," added Belinda.
Heather Robinson, Academic Dean at BHMS echoed these positive sentiments. "This partnership has excellent synergies, allowing students who are used to studying in a multi-cultural environment to continue this journey in the birthplace of hospitality. Experiencing the dynamic hospitality sector in Hong Kong was the start of my passion for this sector, many years ago. As an ESF alumni, I am incredibly pleased that we will be welcoming the new generation of ESF students to BHMS soon."
ESF partners with the Hotel Tourism Institute (HTI) and the International Culinary Institute (ICI) in Hong Kong at their world-class sites which include a teaching hotel and state-of-the-art culinary facilities. The ICI and the HTI employ an international staff of lecturers and are regularly visited by chefs from Michelin-starred restaurants.
Photos to download: https://drive.google.com/drive/folders/1bF8QPonaoiqLjCCMhraboTb922wyzeV8?usp=sharing
Notes for editors:
About the English Schools Foundation:
The English Schools Foundation (ESF) is the largest English-medium international school organisation in Hong Kong. Our 22 schools and comprehensive programme of extra-curricular activities bring out the best in every student through a personalised approach to learning and by inspiring curious minds.
Our strategic intent is to be the key driver of best practice in teaching and learning. Our model of education is on the cutting-edge of global innovation producing excellent outcomes for our students.
There are over 18,000 students from more than 75 different nationalities in ESF kindergartens, primary, secondary and all-through schools. About 70% of our students have parents who are permanent residents of Hong Kong.