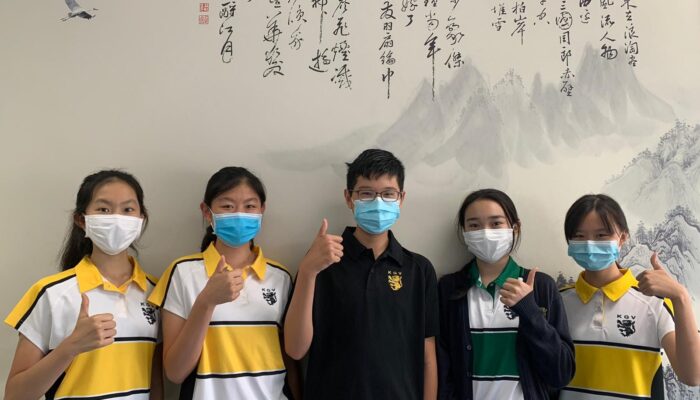 KGV CROWNED CHAMPIONS AT ESF CHINESE DEBATE COMPETITION
Original ideas, powerful opinions and deep insights were shared during the exciting grand final of the ESF Chinese Debate competition, which took place on Saturday, 5 June 2021. The complex debate topic – "大數據時代個人信息可以/無法得到保護" (Personal information can/cannot be protected in the era of big data) – didn't phase our confident students who weighed in with highly persuasive and well-articulated arguments. The judging panel had a tough time choosing just one winning team from the six competing school teams but after lengthy deliberations, King George V School was declared the champion.
Judges' Praise
Judges at this year's event included professors, lecturers and teachers from various independent education institutions. Praising the student competitors, the panel said: "The teams demonstrated extremely impressive critical-thinking skills and took highly sophisticated approaches when presenting their arguments. Each team also showed perseverance, commitment and teamwork. Every student should be extremely proud of their great achievement in this competition." Hot on KGV's heels were Island School who scooped second place, with West Island School coming in third and last year's champions, Renaissance College, taking fourth place.
This year was the first time that ESF's Chinese Debate had taken place over Zoom and the competition included teams from five schools from ESF, including Sha Tin College, plus Singapore International School. The debate team members were from Year 8 to Year 12 but for the grand final, the majority of students were from Year 10, which I think you'll agree – is pretty impressive!
Outstanding Achievements
Huiling Yu, ESF Chinese curriculum learning and teaching adviser, said: "I am extremely proud of our remarkable students who debated so passionately and am also enormously thankful to our exceptional teachers who supported and encouraged them and helped them to truly excel. The high level of language skills demonstrated throughout this competition is a real credit to the remarkable teaching and learning happening in our classrooms. I hope you will join me in congratulating all students for their outstanding achievements and in particular, KGV for their well-deserved win."