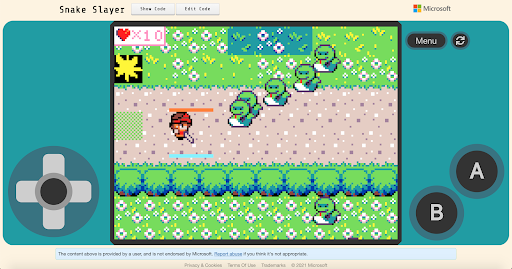 GameJam highlights students' amazing coding skills
Over 700 ESF primary school students aged 8 to 11 designed, built and coded their own video games in teams of four or less which they presented to each other at an online showcase run by the English Schools Foundation (ESF).
With the theme, "In Another World," ESF GameJam 2022 highlighted ESF students' ingenuity in gaming and coding. The online showcase gave participants the chance to play each other's games live.
Aaron Zhao from ESF Renaissance College created "Snake Slayer," where players have to navigate their way through a maze and defeat enemies using swords and fireballs.
"I loved taking part in GameJam," he said. "I learnt a lot and the best bit for me was the coding process and delivering a finished game that other students could play. Also, I learnt to follow logic to fix any bugs in the game which taught me to plan ahead."
Belinda Greer, ESF's Chief Executive Officer said: "Learning to code is one of the most effective ways of teaching students critical thinking skills and nurturing their creativity."
"The games the students produced were just amazing. The innovation and originality shown were exceptional and the students successfully managed to build their games and collaborate in teams working together online."
"It was incredible to see the positive way in which they handled challenges and never gave up."
To play any of the games by the students, please click here
Click on the images below to download the files
Snake Slayer by Aaron (Renaissance College)
The Extreme Treasure Hunt by Khloe (Beacon Hill School)
The Bumper King by Alex (Bradbury School)