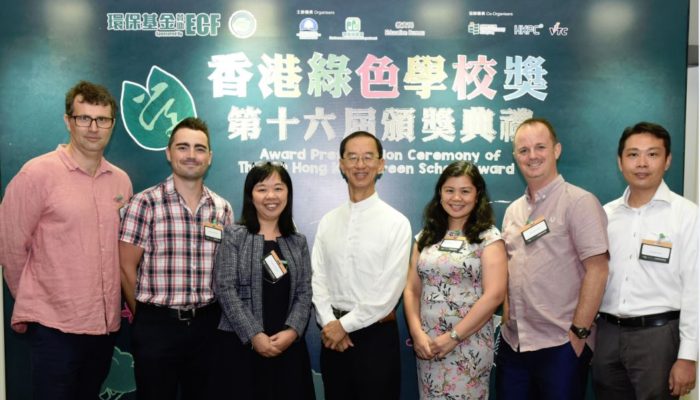 Three ESF schools sweep HK Green School Awards
On 26 September 2018, the Hong Kong Environmental Campaign Committee, Environmental Protection Department and the Education Bureau held the presentation ceremony for the Green School Awards at the HK Convention and Exhibition Centre.
ESF Peak School and ESF Beacon Hill School both received Bronze Awards and ESF Kennedy School received a Certificate of Merit. Congratulations!
The Green School awards are presented to schools that promote environmental awareness and education through policies, curriculum development, and green practices within their school community and beyond.
In the photo (from left to right):
Michel Maruca (E&S Teacher, Peak School), Michael Hoskins (Teacher, Beacon Hill School), Susan Chung (Acting Principal, Beacon Hill School), Lam Chiu Ying (HKECC Chairman), Chiqui Colet (Vice Principal / PYPC, Peak School), Tim Tremmel (E&S Coordinator, Kennedy School) and Michael Yeung (Kennedy School)