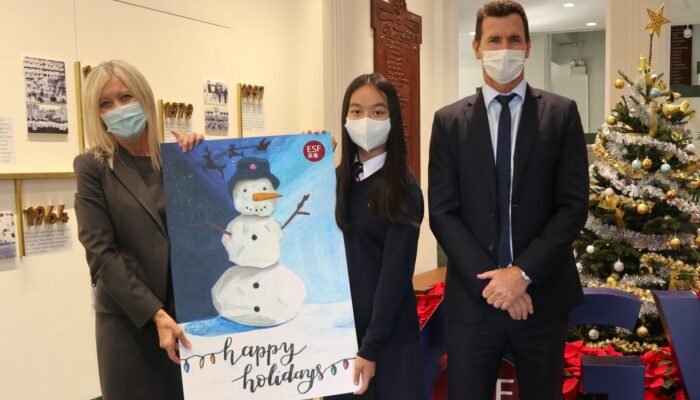 Spread some joy with our
ESF Happy Holidays card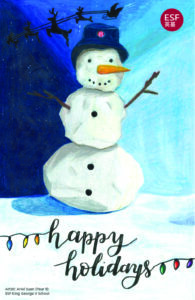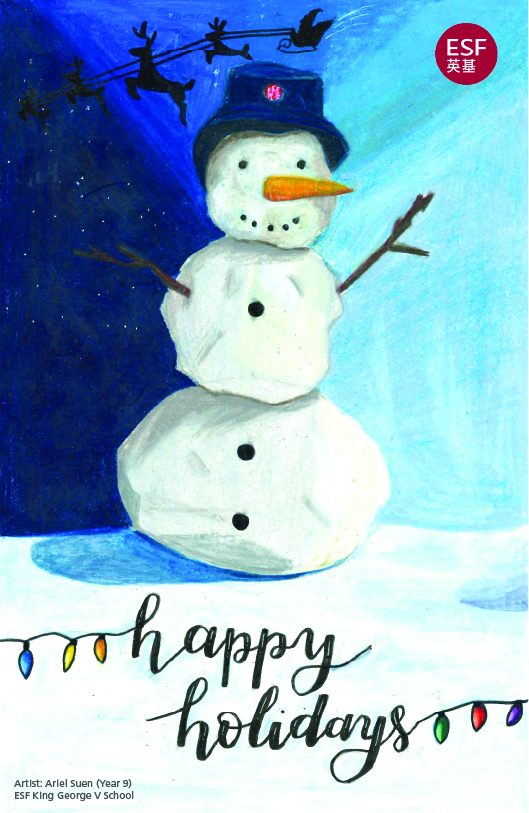 A snowy figure glistening against a starry sky is the beautiful scene depicted in the student artwork selected to be our ESF Happy Holidays card this year. The talented artist responsible for this striking creation is Ariel Suen, a Year 9 student at King George V School (KGV).
Her artwork was selected by our Chief Executive Officer, Belinda Greer, and is the result of an ESF-wide art challenge that saw hundreds of students submitting a diverse array of designs including Christmas scenes, winter landscapes, cultural happenings and colourful wildlife.
Belinda paid a special visit to KGV to congratulate Ariel on her remarkable achievement. "It has been fantastic to see so many of our students engaging with this fun and creative challenge," said Belinda.
"The art entries this year were of an incredibly high standard and are a great reflection of the positivity and energy that our students bring to all that they do. And we can certainly feel the sense of joy captured in Ariel's heart-warming design.
I am incredibly proud of Ariel and all our amazing students for their tremendous artistic achievements and for helping us spread lots of festive cheer this holiday season."
Speaking about her design, 13-year-old Ariel said: " I am very honoured to have my artwork selected as the ESF Happy Holidays card. Christmas, 'the most wonderful time of the year', is a holiday that is very special and close to my heart. I hope that everyone will feel the holiday cheer through the festive elements on my Christmas card." Scroll down to read more about Ariel's inspiration, creative process and passion for art.
We hope you will enjoy sending this beautiful card to your colleagues, contacts, family and friends. Click on the image to download it.
Meet the artist – Ariel Suen
Could you tell us more about the festive scene in your artwork?
"My card has an illustration of a snowman wearing an ESF bucket hat, symbolising the students of ESF. The sky was a hard part because I couldn't decide on whether the scene was happening during the day or at night. I finally decided to draw the sky transitioning from day to night to show that there is no specific time for Christmas. In the background, we can see Santa and his reindeers gliding through the sky from daytime to night-time, with Santa holding a large sack of gifts for students of ESF."
What inspired you to create this wonderful design?
"Since the Christmas card is designed for the ESF family, with students from a wide range of ages, I wanted to choose a topic that would bring holiday vibes to everyone. Ever since I was young, I have always known about songs and movies related to snowmen, such as Frosty the Snowman and Olaf in the movie Frozen. Therefore, I figured drawing a snowman would be the best choice because of how everyone associates Christmas with snowmen."
Please tell us more about your creative process?
"The card was drawn by hand with coloured pencils. I first sketched the design with a pencil roughly. I then proceeded to colour different parts of the snowman, with reference to photos – the branches, carrot, the snow as well as the ESF hat the snowman is wearing. Lastly, I added some Christmas-y elements to bring the festive mood to the card, such as the silhouette of Santa and his reindeers in the background as well as Christmas lights hanging from the words 'happy holidays' that are written in calligraphy."
Art is obviously one of your passions and great talents. What do you like most about learning art at school?
"Art is a subject that I enjoy a lot because art is a great way to express myself. It is how I express my thoughts and dreams, a way of escaping from reality. At KGV, art as a subject has never limited me and gives me the option to choose what I do, allowing me to be as creative as I want to be. Moreover, the art rooms have a relaxing atmosphere, making every art lesson very enjoyable."
And finally, you may not be building any snowmen here in Hong Kong – but how will you be spending the winter break?
"I will be spending the winter break with my family and friends. I may not get to build a snowman this Christmas, but I will be celebrating the holidays with other festive events, such as seeing the beautiful Christmas lights at Victoria Harbour, baking gingerbread cookies and decorating them with friends, counting down to Christmas with my advent calendar and spending time making hand-drawn Christmas cards for friends."