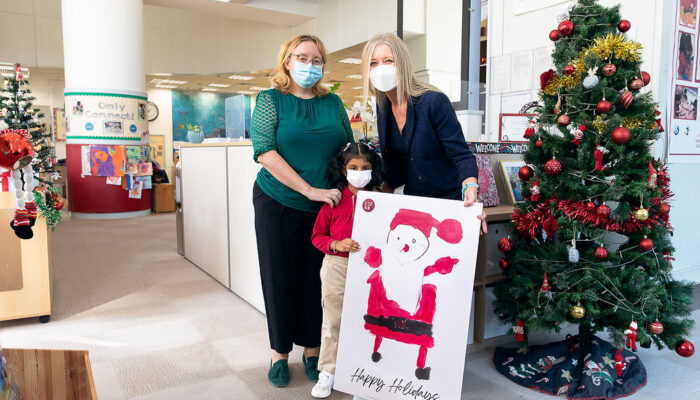 Spread some joy with our
ESF Happy Holidays card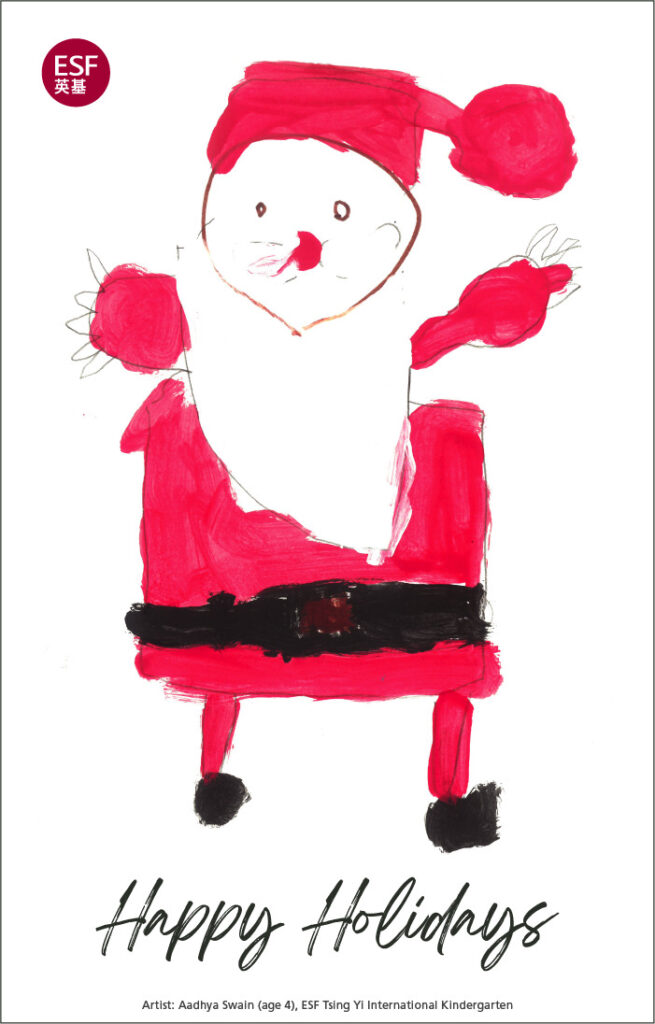 A jolly Santa Claus with a big red nose and fluffy white beard will help us spread festive cheer across our ESF community this holiday season.
This bright and cheerful character was created by one of our youngest learners – four-year-old Aadhya Swain, who is a student at ESF Tsing Yi International Kindergarten.
Aadhya's art was selected by our Chief Executive Officer, Belinda Greer, and is the result of an ESF-wide art challenge that saw hundreds of students submitting beautiful designs inspired by everything from Christmas scenes and cultural happenings to wintery landscapes and festive food.
Belinda paid a special visit to ESF Tsing Yi International Kindergarten to congratulate Aadhya on her wonderful art. 
"The spirit of Christmas really shines through in this joyful painting, which I know required a lot of creativity, focus and attention to detail from four-year-old Aadhya," said Belinda.
"The standard of art submitted this year was incredibly high, so well done to Aadhya and all our talented student participants from K1 to Year 13."
While spending time with Belinda, Aadhya talked excitedly about Santa, cookies and her teacher Miss Sophie. 
"Miss Sophie read us the book Shhh Santa," said Aadhya. "She gave me lots of colours. I looked at pictures of Santa. Miss Sophie said I did very good."
"I drew Santa Claus because Santa Claus gives gifts to family and friends. I love drawing and painting pictures for family and friends. I am excited to make cookies with my family to give to Santa."
Aadhya's teacher Miss Sophie is very proud of her student and told us "It is wonderful to share Aadhya's passion with everyone through the ESF Happy Holidays card."
ESF Tsing Yi International Kindergarten Principal Suzannah Large is also over the moon about her student's great achievement.
"Our whole learning community is delighted that Aadhya's design has been chosen for this year's ESF card, and we are so pleased to share her Santa with our ESF family. I think Aadhya has really captured Santa's festive spirit in her painting."
We hope you will enjoy sharing this wonderful card with your community. 
Click on the Happy Holidays card image to download it.