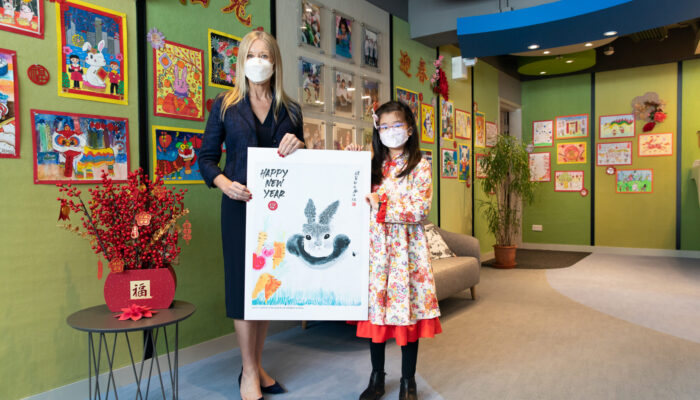 Celebrate the Lunar New Year with our ESF Year of the Rabbit card
A fluffy grey rabbit surrounded by juicy carrots is the charming scene created by one of our primary students for this year's ESF Lunar New Year card.
The talented artist behind this wonderful piece of art is eight-year-old Gabriella Ng (Gabby) from ESF Kennedy School.
Her artwork was selected by ESF's Chief Executive Officer, Belinda Greer, and is the result of an ESF-wide art challenge that saw hundreds of students submitting brilliant designs featuring rabbits of every size, shape, and colour, including bunnies floating in space, sailing in wooden junk boats and surrounded by glowing lanterns, fireworks and brightly-coloured flowers.
"The standard of art submitted by our students this year was incredibly high," said Belinda, "but it was Gabby's beautiful grey rabbit that caught my eye.
Our talented primary student not only demonstrated her great skill in traditional Chinese ink painting but she also let her imagination shine through in this endearing design.
Congratulations to Gabby on her fantastic achievement and to all students who created joyful designs as part of our creative learning challenge."
Belinda made a special visit to ESF Kennedy School to congratulate Gabby on her incredible artwork.
Speaking with Belinda about her painting, our amazing student said: "I feel very happy and proud that my artwork was chosen. I really love art and have always wanted my art to be loved by others.
During Chinese lessons, I have learnt a lot about legends, history and the celebrative activities that happen during the Chinese New Year, all of which inspired me to create my painting.
My work is a traditional Chinese ink painting, with a rabbit as its centrepiece. The rabbit is surrounded by its food, which I think is plenty in amount."
Gabby also told Belinda that she is very excited about the upcoming celebrations at her school including performing in the Chinese New Year assembly and taking part in a New Year Games Day.
Gabby's great achievement has also been celebrated within the ESF Kennedy School community with Principal Brenda Cook saying: "We are thrilled that Gabby's work has been chosen as the ESF Lunar New Year e-card. It is fabulous that she has used a traditional Chinese ink and brush technique here. I hope everyone loves this piece as much as we do."
We hope you will enjoy sending our ESF Year of the Rabbit card to your colleagues, contacts, family and friends. Click on the image to download it.