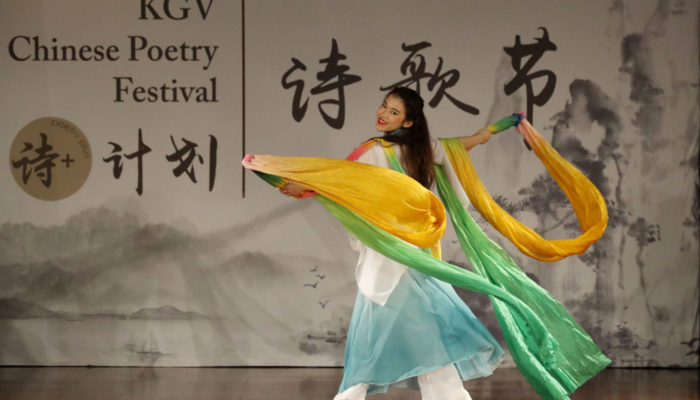 KGV Launches Chinese Poetry Festival
Poses shift, beat drops, shapes swirl – on Friday 18 October, ESF King George V School presented a dazzling array of performances from students at their inaugural Chinese Poetry Festival as part of the wider Chinese Poetry Plus Project supported by the government's Quality Education Fund (QEF). It is a rare opportunity for international schools to be sponsored by QEF, marking our first collaboration with the government to promote Chinese teaching and development within the ESF community.
The Chinese Poetry Plus Project introduced 10 workshops with creative industry leaders who worked in literature, arts, music, virtual reality, and STEM. It culminated in the Chinese Poetry Festival, which showcased our students' hard work over the months in a thoughtful dialogue across Chinese poetry and multiple disciplines.
The Festival featured an exhibition highlighting Year 12 students' installation works in collaboration with award-winning designer Dylan Kwok.
VR workshop participant David Han (Year 9) says, "During the workshop, I learnt how to create immersive imageries and visualise what the poet wanted to express with Google Tour Creator. I think this type of learning could also be used in any subjects that need visualising for a sense of clarity. I really enjoyed this way of learning poetry, it was very different and interesting."
Head of Chinese and organiser of Chinese Poetry Festival Ms Joyce Yang says, "Poetry opens one up to the beauty of language itself. Bringing learning back to basics, these workshops encouraged students to tune in to themselves in a moment of quiet reflection. We hope students could benefit from some respite from the buzz of modern life."