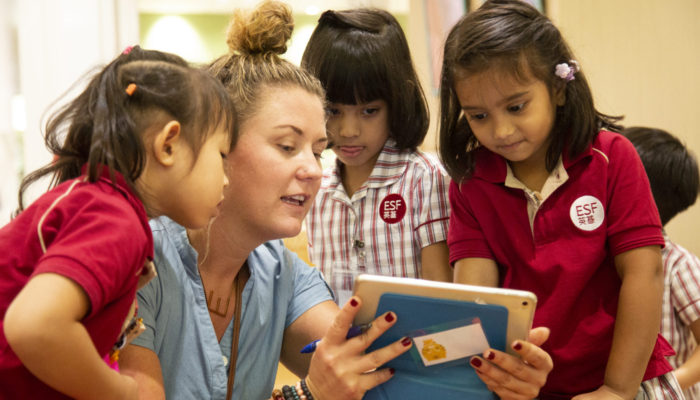 'Clearer, Faster and Less Stressful for Families: ESF Launches New Admissions Policy
中文 (香港)
Interviews scrapped for children moving from ESF kindergarten to ESF primary school
The English Schools Foundation (ESF), the largest English medium international school organisation in Hong Kong, today announced that it is scrapping assessment interviews for children who move from ESF kindergartens to one of their primary schools.
At present, children are only offered a Year 1 place after they have successfully completed a formal interview with the school which they have applied for. Parents often state that this is a stressful situation for both the child and the family.
Starting from September this year, the offering of a Year 1 place will be made following a period of collaborative assessment involving the child's kindergarten and primary school teachers.
This new assessment method will remove the stressful interview and give primary schools a more in-depth, meaningful understanding of the children at this stage of their learning.
The move to scrap assessment interviews comes on the back of the launch of the new 'one-form' application process. Launched earlier this year, the 'one-form' greatly streamlined the process for parents who were making an application for their child to attend an ESF school – cutting out duplication of effort and reducing the time between application and decision.
Speaking about the changes, ESF Director of Education Adam Hughes said:
"ESF schools are incredibly popular. Every year, thousands of families in Hong Kong apply to us, hoping to have their child benefit from the world class teaching that goes on in every single one of our 22 schools.
"We know, however, that this process can often be a stressful one. That is why we are making changes. Removing the need for an interview not only removes something that parents find difficult, it also means that our primary schools will engage with the children earlier and in a much more meaningful way.
"Taken together with the 'one-form', our new approach to admissions is clearer, faster and less stressful for families. It will give parents more certainty about their child's education and it will make the transition from kindergarten to primary much easier for the children."
For parents who have children born in 2016, 2014 or 2008, they should apply for ESF's K1, Years 1 and 7 places from 1 to 30 September 2018, so as to start in August 2019 (link: www.esf.edu.hk/application-form).
Notes:
The new assessment in kindergartens will look at the child's ability to access a mainstream education in one of our primary schools.
Children who, through the new process, are deemed to require additional support or who have specific additional needs will then divert into a separate application process. Parents would be fully supported through this application process by our team of educational experts.
In order to be eligible for this new process, children must:
Have studied at ESF International Kindergartens since the second term of the first year of kindergarten (K1) and;
will complete their second year (K2)