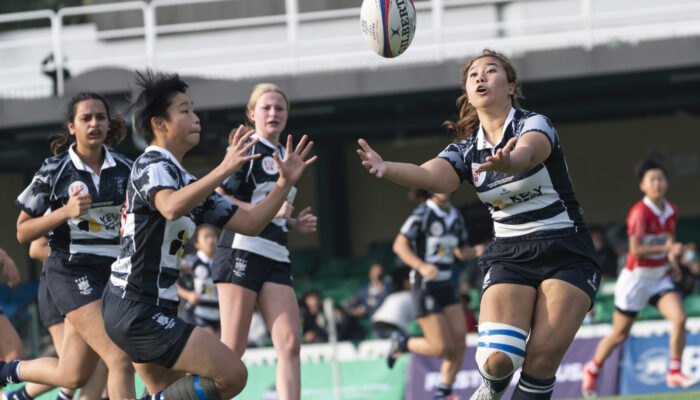 ESF students shine in New Year's Day youth rugby tournament
ESF boys' and girls' teams win both under-19 games
King George V School (KGV) student Micayla Baltazar wins best player awards for her under-19s match and the whole tournament
South Island School student Marco Conti named best player for his under-19s match
The SCMP writes that "ESF sides shine" in a glowing news report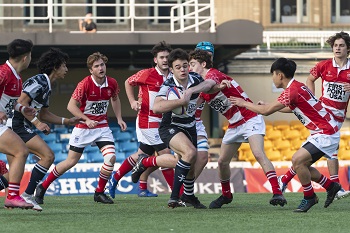 More than 90 of our amazing secondary students kicked off 2022 with some fantastic sporting achievements at Hong Kong Rugby Union's New Year's Day Youth Tournament.
Our boys' and girls' teams showed great passion, skill and perseverance and were rewarded with impressive wins in both the under-19 games against teams from Hong Kong youth rugby clubs.
The outstanding performance of KGV student Micayla Baltazar was also recognised with the Larry Abel Trophy – an award presented to the best player of the tournament. The rising rugby star was also named best player for her under-19s match.
James Farndon, General Manager of Performance at Hong Kong Rugby Union (HKRU), said he was impressed by Micayla's all-around game. "She is a player who clearly sets high standards. Micayla also plays selflessly doing a great deal of the unseen work around the pitch to enable the team to be successful."
South Island School student Marco Conti also showed exceptional flair on the field and was named best player for his under-19s match.
Micayla and Marco were two of more than 90 talented ESF students who took part in this prestigious annual sporting event, which dates back to 1967 and is a highlight of the local youth rugby calendar. The event was held at Hong Kong Football Club and attracted hundreds of supporters from across the community, including our CEO Belinda Greer, ESF colleagues, families, and friends.
Tony Karton, Director of Youth Rugby at HKRU, was delighted by the standard of play. Speaking after the tournament, he said: "After two challenging years it is tremendous to see the future stars of Hong Kong rugby back on the pitch. I'd like to congratulate all those who have provided such an entertaining afternoon of first-class rugby action – players, coaches and officials – and I look forward to an exciting new year for our youth players."
Our amazing students were coached by our equally amazing teachers who went to great lengths to make sure our teams were well prepared for their tournament debut. These colleagues include Scott Davidson and James Fisher (KGV), Jonty Wood (Peak School), Gavin Boak and Tom Peel (Island School), Fion Got (South Island School) and Dan Hodgetts (Sha Tin College).
Scott Davidson said: "This event was a wonderful opportunity for students from our secondaries to play alongside each other, and young people from a variety of schools and rugby clubs, and to form a bond across the wider community.
"It was a great community event that promoted the importance of sport, exercise and wellbeing – and it was a great way to start the new year. Everyone really enjoyed themselves. It was a fantastic day of rugby!"
Read more about our students' remarkable performance in this glowing SCMP news article.