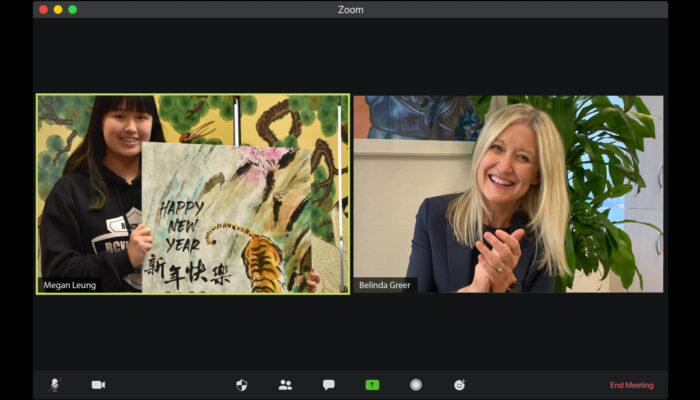 Celebrate the Lunar New Year with our ESF Year of the Tiger card
A majestic tiger emerging from a misty mountain waterfall is the dramatic scene depicted in the student artwork selected to be our ESF Year of the Tiger card. The talented artist responsible for this beautiful creation is Megan Leung, a Year 11 student at Renaissance College.
Her striking artwork was selected by our Chief Executive Officer, Belinda Greer, and is the result of an ESF-wide art challenge that saw hundreds of students submitting a diverse array of designs, including tigers of every size, shape, and colour, plus lanterns, lai see, blossoms and exploding firecrackers.
"In Chinese mythology, the tiger – the third of all the zodiac animals – is known for its confidence and curiosity, and also its ability to think quickly and seize new opportunities," said Belinda. "What great qualities and fantastic inspiration for our students who let their imaginations run free with this fun and creative art challenge.
"I was incredibly impressed by the high standard of artwork submitted by all our talented students, but it was Megan's striking design that really stood out. Through exceptional skill and creativity, she perfectly captures the vitality of the tiger while expertly emulating the style of Chinese traditional painting. A truly outstanding piece of art."
Belinda had planned to visit Renaissance College and congratulate Megan on her remarkable achievement. Due to current restrictions, this was not possible, so Belinda invited Megan to join her on Zoom instead.
Speaking with Belinda about her design, 15-year-old Megan said: "My Chinese teacher, Mr Chan, encouraged me to create the card and enter the ESF art challenge. I have a passion for art and, in particular, Chinese traditional painting. I wanted to bring this traditional art form to life in the design of my card.
"I feel honoured that my artwork was selected. Chinese New Year is very important for me, and I am looking forward to spending time with my family, eating lots of new year cakes (年糕), hanging out with my friends, and lastly, receiving lots of red packets!" Scroll down to read more about Megan's inspiration, creative process and passion for art.
We hope you will enjoy sending this beautiful card to your colleagues, contacts, family and friends. Click on the image to download it.
Meet the artist – Megan Leung
What inspired you to create this design?
"I was inspired by Chinese New Year, which is all about celebrating Chinese culture, and I wanted to show traditional Chinese painting because this art style is one of the oldest. My design has a painting of a tiger coming down from a waterfall. I wanted to position the tiger lurking towards the rocks. In the background, you can see a streaming waterfall. I also added a small flowering tree beside the cliff."
Please tell us more about your creative process?
"I used a mix of techniques, not just Chinese watercolour painting. For the tiger, mountain and rocks, waterfall, and flowering tree, I painted by hand using Chinese watercolour paint. I created the Chinese characters on separate paper. I added 2022 in a gradient watercolour style. I then merged some of the elements on my laptop."
Can you tell us about the significance of the Chinese characters used within your artwork?
"The Chinese characters ( 新年快樂 ) say Happy New Year. I chose to include these characters because I wanted to make the design very traditional and include characters in a Chinese calligraphy style. It was also especially important to me to have Happy Chinese New Year as the main message to reach everyone."
Art is obviously one of your passions and great talents. What do you like most about learning art at school?
"Art is definitely one of my favourite subjects in school because it allows me creative freedom and self-expression. Moreover, the environment of the art classrooms is very mindful and definitely a place that is enjoyable. I feel very appreciative and genuinely want to thank my Chinese teacher, Mr Chan, for his support and encouragement towards this art challenge. He was also thrilled that my art was selected as the ESF New Year card."