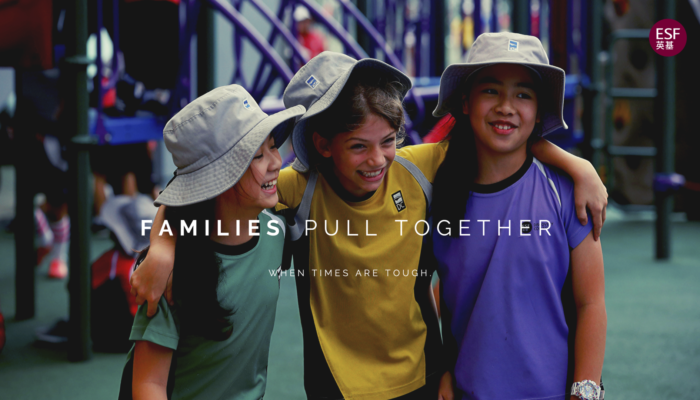 ESF LAUNCHES 'TRIPLE ASSISTANCE PACKAGE' FOR PARENTS
ESF today launched a new 'triple assistance' financial package in order to help families who have experienced financial difficulties during the current global pandemic crisis.
The three schemes will see:
All ESF fee paying families able to opt in to receive a grant which equates to 45% of their June fees – per student.
The extension of the current ESF Financial Assistance Scheme to include the families of Year 1 and Year 7 students – as well as families of students in ESF Kindergartens and of students who have joined ESF within this current academic year.
The launch of a new 'Covid-19 Emergency Assistance Scheme' that will offer fast-track support to families – giving them the option to defer up to 50% of their April, May and June 2020 fees – with the option to pay back over 24 months starting in January 2021.
ESF has launched a new website to provide families with full details of the 'triple assistance package' at www.esf.edu.hk/tripleassistance
Speaking about the new package of measures, ESF Chief Executive Officer Belinda Greer said:
"These are unprecedented times. The impact of the global pandemic has left many of our families facing economic difficulties – and we want to do everything that we can to support them.
"The triple assistance package that we are announcing today is designed to give immediate assistance to those who need it most.
"When times are tough – as they undoubtedly are now – families pull together. Our students and their parents are our family – and we want to make sure that we are playing our part in helping them get through this incredibly challenging period."
NOTES TO NEWS EDITORS:
The grant that equates to 45% of June fees will be offered to all eligible families who choose to opt into the scheme. They will receive it in their June fees. This scheme is not open to any families who already received full fee remission. Parents who have their fees paid by the Hong Kong Government through the Local Education Allowance (LEA), or have their fees paid by a private employer are eligible to apply.
The extension of the current Financial Assistance Scheme means that all ESF parents – regardless of how long they have been with us, or the year of study of their child – will be able to access up to 100% fee remission depending on their circumstances. At present, Year 1, Year 7, Kindergarten and students in their first year with ESF are excluded from this scheme. This extension of the FAS applies only to families who have suffered financial problems due to the Covid-19 pandemic.
The 'Covid-19 Emergency Assistance Scheme' will give families who have suffered economic hardship during the current situation the ability to defer up to 50% of their fees for a maximum of 3 months. They will then be able to pay the deferred amount back in up to 24 instalments commencing in January 2021.
If you have any questions, or if you need the Chinese version of this article, please contact news@esfcentre.edu.hk
Updated on: 12 May 2020