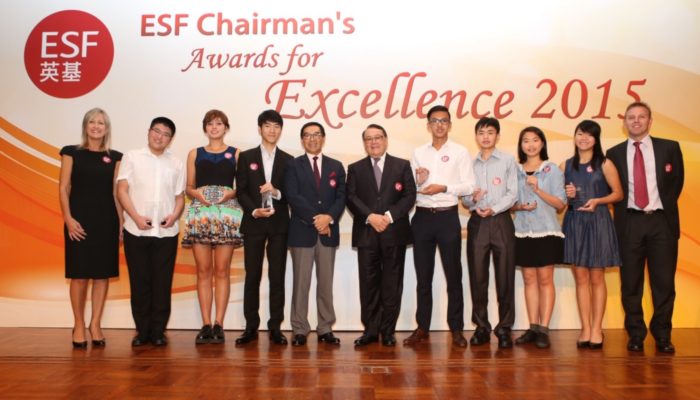 187 graduates awarded ESF Chairman's Awards for Excellence
The English Schools Foundation (ESF) held the ESF Chairman's Awards for Excellence 2015 Ceremony today to recognise the outstanding performance of 187 ESF graduates. The graduates include:
37 students from 2014-15 Year 13 cohort with outstanding achievement in Leadership, Commitment and Contribution to Service, Embodying the Spirit and Values of the school, Sporting Achievement and Creativity;
130 students who achieved the International Baccalaureate (IB) Diploma with 42 or more points (or a Bilingual Diploma with 40 or more points);
31 students who achieved the equivalent of 420 or more UCAS points on the Applied Learning Programme.
Another highlight this year is the inaugural Carlson Tong Award to celebrate the distinctive performance of students who achieved the highest performance in the Bilingual Diploma. Three students will be receiving this special award. They have achieved the maximum 7 points for two languages, both of which studied as first language.
A press gathering was held before the ceremony and seven awardees were invited to share their stories of school life and memorable learning experiences. More than 400 students, parents and teachers attended the award ceremony to celebrate the students' outstanding achievements.
ESF Chairman Mr Abraham Shek praised the students for their achievements in both academic and non-academic aspects. "ESF has a tradition of excellence in academics, sport and cultural activities. Students leave ESF as confident, well-educated and internationally-minded individuals who are equipped to play constructive roles in our global society," he said.
Outstanding awardees share their stories
Seven awardees shared their study experience and interesting stories of their time in school.
Justin CHENG Yan Yiu (Sha Tin College) achieved 45 points in the IB Diploma. He is going to the London School of Economic and Political Sciences to study International History.
Grace CHIN Ho Yun (West Island School) achieved 45 points in the IB Diploma. She will study Design Engineering at Imperial College London.
Kasper FAN Yin Cheung (King George V School) has achieved 42 points in the IB Diploma and will receive the Leadership Award. He will study law at the Chinese University of Hong Kong. His role as Deputy Head Boy for KGV gave him responsibility for providing student voice on aspects of teaching and learning. With the help of his fellow prefects, he empowered student voice and shared students' views with the learning directors to bring about improvement in learning. "The fact that students were able to make a direct impact on the things and ways they are learning was a truly memorable one," says Kasper. "It really shows how KGV is taking student voice to a whole new level."
Tra My HICKIN (Discovery College) has achieved 42 points in the IB Diploma and is also nominated for the Commitment and Contribution to Service Award. She will read English literature at Durham University. She had set up Discovery College (DC)'s first environmental group in Year 8 (One Step at a time), organised and initiated DC's annual 40 Hour Famine to raise money for World Vision. She had represented DC at many environmental conferences such as the ESF environmental conference and GIN 852. Last summer, she had taught English at Who Will Village in Cambodia last summer as a volunteer and raised money for the Blue Dragon Children's foundation in Vietnam.
Brian WONG Yue Shun (Island School) achieved 45 points in the IB Bilingual Diploma, and he will also receive the Carlson Tong Award for his remarkable results in two first language subjects. He will be reading Philosophy, Politics, and Economics at Pembroke, University of Oxford on a full scholarship. Brian is an outstanding debater. He was ranked second in the world for Individual Debating and 6th overall in the 2014 World Individual Debating and Public Speaking Championships. He was appointed to be the 2015 Leader of Flashpoint Debating, a non-profit debating organisation set up in 2013, and was invited to be the Deputy Chief Adjudicator of the 2015 China National High School Debating Championships.
Kitty WONG Hiu Fung (Renaissance College) is another recipient of the Carlson Tong Award for her outstanding performance in the IB Bilingual Diploma. She will be studying Medicine (MBChB) at the University of Bristol. While studying at Renaissance College, she established iHeart, a project that raises awareness about heart arrhythmias and funds for Sudden Arrhythmia Death Syndromes (SADS).
Adam Theodore ZOEN (South Island School) achieved 44 points in the IB Diploma and is also receiving the Leadership Award. He will be attending Williams College in Williamstown, Massachusetts as a prospective double major in Economics and Mathematics. Adam had been a student leader at South Island School (SIS) and served many roles. He founded and led the organisation of TEDxYouth@TSIS, an independent event operating under license from TED that involved 12 speakers and attracted over 1,000 viewers. He led the SIS Anti Human Trafficking Group, a student-run organisation of 40 members that planned and execute campaigns to raise funds and awareness of human trafficking in Hong Kong.
ESF announces three more IB perfect scorers
ESF previously announced that 14 students got the maximum score of 45 points in the IB Diploma examinations 2015. However, after successful remarks, three more students achieved the perfect scores. ESF is proud of having a record number of 17 IB full mark scorers. They include:
Island School: Jane WRIGHT, Claudia TAM and Brian WONG;
King George V School: Narumi WONG and Priyanshi Ajesh SHAH;
Renaissance College: Sharon CHENG;
Sha Tin College: Justin CHENG, Stephanie CHEUNG, Ellen HAO and Jamie WONG;
South Island School: Ka Chun LOUIE, Daniel MONTEIRO and Ming-Yu Yang;
West Island School: Kylie CHEUNG, Grace CHIN, Venice LUK and Glenda XU.