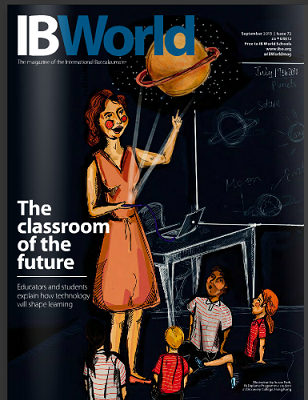 Discovery College student artwork featured in IB magazine

中文 (香港)
What will classrooms look like in 2030? English Schools Foundation (ESF) Discovery College (DC) Year 12 student Susan Park's artwork speaks for itself. Susan's artwork stood out and was selected by the IB World Magazine as the front cover for its September issue.
International Baccalaureate (IB) ran a world-wide competition for students this June to investigate how digital technology in the classroom is affecting schools around the world. Students had to submit artwork that reflects what they think classrooms will look like in 2030. The winning illustration will be used on the front cover for the September issue of the IB World Magazine.
Results were announced last month and DC student Susan Park was awarded the winner. The young artist, who is a Visual Arts Scholarship recipient at DC, shared her inspiration for the stunning artwork.
"When comparing classrooms throughout the decades, the most significant development, I believe, is the advancement of technological applications, especially regarding projectors and use of projections," she said.
"In the foreground of my artwork, I have displayed a teacher using an advanced version of a '3D holographic/interactive projector' as a learning tool, which plays a role as an optical time machine for the students. Through this advancement, I display both the students and the teacher visually experiencing/simulating places, structures and topics from past, present and future within their classroom environment," she explained.
Susan Park's artwork, together with the digital copy of the September issue of IB World Magazine, can be viewed HERE.