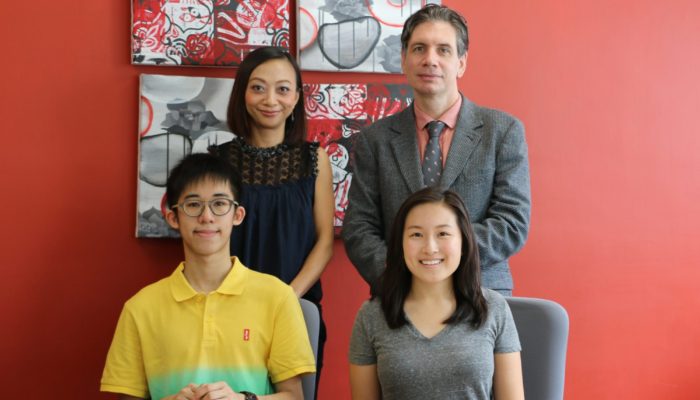 ESF produces Hong Kong's first IB career-related programme graduates

中文 (香港)
In the photo (from left to right): Upper row: Ms. Wilma Shen (RCHK IBCP Coordinator) and Mr. Stewart Redden (RCHK Vice-Principal); lower row: Paul Lee and Casey Chan
Hong Kong's first ever International Baccalaureate career-related programme (IBCP), which was jointly launched by ESF Renaissance College (RCHK) and Savannah College of Art and Design (SCAD) Hong Kong two years ago, now welcomes its first batch of graduates, which is also a first in East Asia.
The programme combines foundation courses at SCAD with IB Diploma courses and the IBCP core subjects at RCHK. The SCAD courses provide the students with university credit and the IB Diploma course studied at RCHK are internationally recognised and well respected by universities worldwide.
A total of three ESF students from RCHK have successfully completed the programme this year and they have all gained excellent university places. Casey Chan, one of the three graduates, gained entry into one of the top art colleges in the US at the California Institute of the Arts (CalArts).
"Being part of the IBCP created an opportunity for me to enhance my knowledge within the art world and refine my foundation skills in art. The academic side of the programme is also very important as it plays a part in your thought processes in terms of creating art," said Casey. "My advice would be to value and enjoy both the creative and academic side of the programme in order to take full advantage of the opportunities that is presents."
Another graduate, Paul Lee, decided to stay with SCAD in Hong Kong, while Chris Fung is currently studying at Kwantien Polytechnic University in Canada.
The IBCP is an innovative educational framework for students aged 16 to 19 years old. It is tailor-made for students who wish to engage in career-related learning while providing them with both IB Diploma courses and IB core components. On gaining the IBCP, students will progress to full bachelor degrees or foundation courses at universities and colleges worldwide if their grades warrant such progression.
"I believe that the art and design students that pursue our IBCP offering rather than taking Visual Arts or Design Technology within the IB Diploma are better equipped for tomorrow's quickly changing world as they become more effective practitioners within their chosen career pathway much faster," said Stewart Redden, Vice Principal (Secondary) of RCHK.
"In the IB Diploma, students have to deal not only with all of its components, but at the same time develop a comprehensive body of quality work for their portfolio and advance themselves as artists to pass the required interviews and admissions procedures. Developing specialist knowledge takes a long time with a figure of 10,000 hours being reported to develop intuitive skills. Therefore, to give students the best chance to maximise their potential, the IBCP is the option that gives them an ascendancy in reaching a professional level more quickly," Redden explained.
RCHK is currently negotiating with providers for options in the performing arts and sports science, and on the lookout for possibilities in hospitality and business.
Another two ESF secondary schools, South Island School and Sha Tin College, are both going through their verification process to become CP schools. Both schools are expected to launch the programme in August 2017 with possibility to offer students more career-related options in Business, Sport, Art & Design and Creative Media.