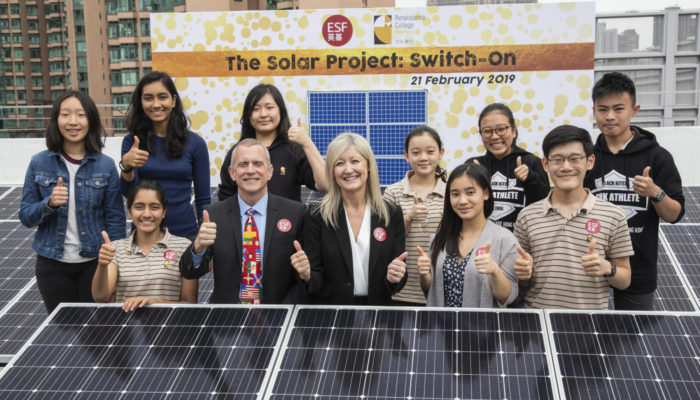 ESF Students 'Switch On to Sustainable Future'
中文 (香港)
Renaissance College first ESF school to install solar panels
Project led by students as part of innovative sustainability work
Plans to roll out scheme across ESF schools
A solar energy project, the first time such a scheme has been designed and led by school students, has today stated producing electricity and connecting to CLP's power grid.
In total, 32 large solar panels have been fitted to the roof of the ESF Renaissance College (RCHK) – the renewable energy system is now connected to CLP's power grid and eligible for its Feed-in Tariff (FiT) Scheme.
The FiT is one of CLP's initiatives to encourage the community to develop renewable energy and to embrace low-carbon lifestyles. Under the scheme, users can earn FiT payments by connecting their solar or wind power renewable energy systems to CLP's power grid.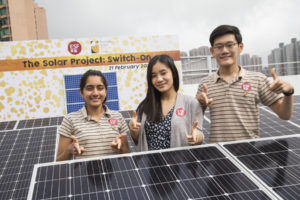 As part of an ESF sustainability project, students were asked to come up with ideas that would benefit their school, local community or Hong Kong more generally. The RCHK team, led by students Jane Chan (Year 12) and Taylor Chung (Year 11), had the idea to use the expansive network of buildings in the school campus to generate green, solar energy.
From that original idea, Jane and her team applied for funding, commissioned designs and even appointed the contactors to deliver the scheme. Today's switching on of the panels was the culmination of 18 months hard work.
ESF now plans to roll out this scheme to more of its 22 schools. Plans are already at an advanced stage to install similar solar panels at ESF King George V School and ESF Kowloon Junior School.
Speaking at the 'Switch On' ceremony, Belinda Greer, Chief Executive Officer of ESF said:
"What an extraordinary achievement. Jane and her team have done a quite remarkable job – first coming up with the idea and then taking it through every stage of its development. For them to be standing here, shoulder to shoulder with experts from CLP as the first students to ever take the lead on a scheme like this is something that they should feel incredibly proud about.
"When we started our sustainability project earlier in the school year, we had no idea that it would produce the type of results that we are seeing today. Our students care deeply about their environment and the world that they live in. This scheme shows that they are switched on to creating a sustainable future for themselves, their classmates and the people of Hong Kong.
"We are now going to be working with our other schools to launch similar schemes to this one here at Renaissance College. I want to thank the staff here at the school and the team at CLP who have provided such amazing guidance to the students."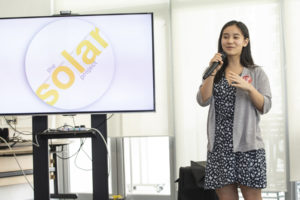 Jane Chan, one of the leaders of the Solar Project said:
"We would like to demonstrate that the choice for a sustainable future does not require any loss in business nor time spend. Being a part of the FiT scheme, it enables the school to cash-in power generated by the renewable energy system,  which may help recover part of the installation and operating cost."
Dr Harry Brown, Principal of ESF Renaissance College said:
"The satisfaction really is that these students are able to translate what they had learned into action for the real world. By seizing this opportunity to start this sustainability project, they have demonstrated initiative, drive to completion and heart for the community."