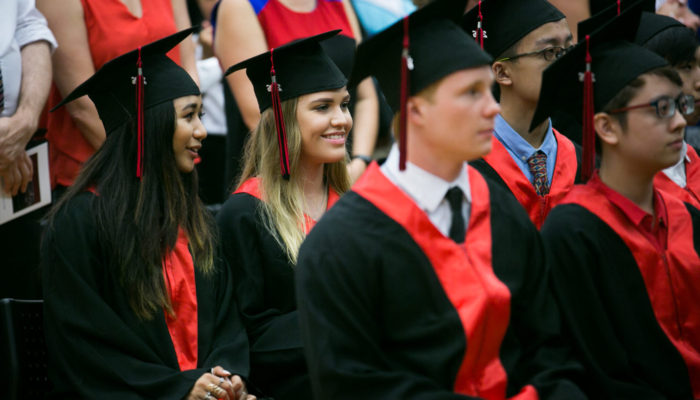 ESF students shine with stellar university offers
中文 (香港)
An impressive 15% of ESF leavers enter the top 30 universities in the world in 2017. Stewart Redden, ESF's Learning and Teaching Adviser – Post-16, shares about the institution's commitment for academic excellence and diversity.
As a provider of world-class education in Hong Kong for over half a century, ESF has nurtured generations of high-achieving students, as shown by offers from leading universities all over the world and the diversity of disciplines to which students have been admitted.
According to Redden, the UK is the most popular among the 23 destinations ESF leavers go to for university, accounting for 44% * of students in 2017, with 13 students gaining Oxbridge (University of Oxford and University of Cambridge) places. "The affinity for the UK could be attributed to not only traditional links between Hong Kong and the country, but also to the cost and quality of the courses," he observes.
Other popular destinations between 2013 and 2017 include Hong Kong (21%), USA (16%), Canada (11%), and Australia (6%), plus countries such as Spain, Germany, the Netherlands, China, South Korea, India and Switzerland. Redden points out the growing popularity of universities in Hong Kong over the past decade, with the percentage rising from 16% in 2009 to 22% in 2017. Of these students, 73 went to the University of Hong Kong and 53 to the Chinese University of Hong Kong.
Commenting on the subject choices, Redden says there is a good balance. Social Economic Sciences stands out as a top choice with 22% of students studying relevant degrees ranging from Law to Psychology. Business-related courses are also popular among students at 16%. Science and Technology (14%) has gained favor in the past decade, followed by Creative Arts (9%) and Performing Arts (6%).
"It is really encouraging to see that balance – which says something about how we prepare students at ESF schools," Redden says. "We are not only focused on one area, and are enabling access to a wide range of courses at universities."
ESF organises a university fair every year for all Year 12 students. This year, it took place in January with 185 universities and institutions from all over the world participating. It was a great opportunity for students and the institutions to explore and learn more about each other.
To ensure students get as much support as they need in the university application process, each ESF student is assigned a counselor to assist them along the way. All the schools have a well-qualified team of counselors who have close contacts with universities' admission teams from around the world.
Redden highlights that the counseling team in each school is very involved in listening to students regarding their career aspirations and advising them on which pathways and options during their decision-making processes. "Parents are also welcome to consult counselors on advice for their children," he adds.
"I believe the quality of the educational programmes, the teaching and learning that goes on within the schools, as well as the extra-curricular activities we provide, definitely help our students achieve their university goals," Redden says.